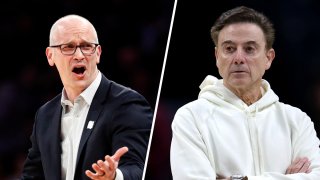 The UConn men will take on the Iona Gaels today in the First Round of the NCAA tournament.
The teams will match up at 4:30 p.m. on St. Patrick's Day.
UConn (25-8), will take on Rick Pitino's Iona (27-7) in Albany, New York.
When he was a college basketball player, UConn men's basketball coach Dan Hurley played in the tournament and said "it's a dream come true" for a coach to coach in it "and have a team that has the quality that could advance in it."
Fan bus tickets sold out and students left Friday morning to get to New York.
"March is definitely a magical time for UConn and to be a UConn Husky," Rachael Praus, a UConn sophomore said.
UConn has posted a schedule of events for Husky fans who made the trip to Albany.
The Albany site is part of the West Region in the NCAA Tournament and UConn won three of its four NCAA men's titles when coming out of the West Region.
The Huskies' National Championships in 1999, 2004, and 2011 all began with UConn coming out of the West Region.
They were in the East Region when they won their 2014 national title.