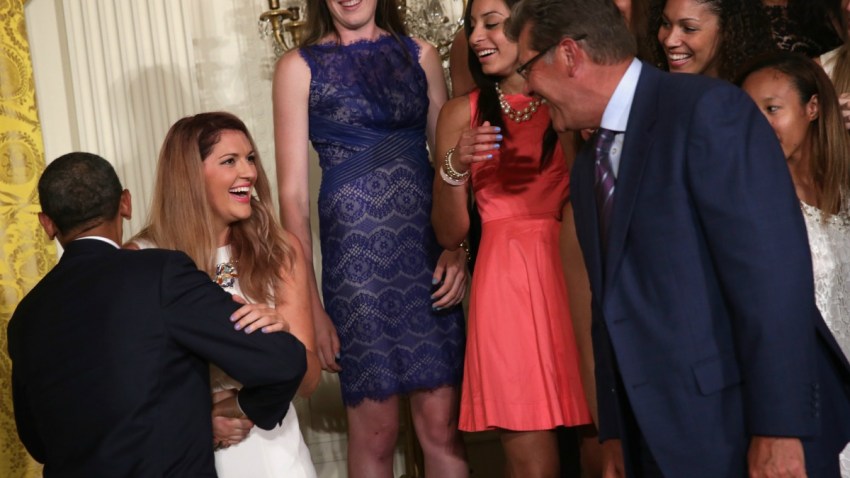 The UConn men's and women's basketball teams visited the White House Monday and for the most part, it was an uneventful ceremony. And then Stefanie Dolson appeared to lose her balance, falling off the risers behind President Obama. But Dolson's a showman if anything, and she made the most of the opportunity, laughing it off with the president, followed by a curtsy that drew laughs from those in attendance.

Obama was already well acquainted with Dolson; last year when the Huskies visited the White House, the center challenged the president to a dance competition should UConn win another national title.

"Stefanie, I did not forget that you challenged me to a dance-off last year," Obama said. "It is going to happen. It is going to happen. … Don't think that you're going to beat me on that. I also appreciate that you told the world about it after the title game. I have daughters in junior high and high school, and for their sake, I will not be dancing around too much while the cameras are around."

Dolson also wasn't surprised that Obama remembered their wager.

"It probably helped that I fell," she cracked.

Last week, Dolson said she had no plans to pursue the dance-off, telling the Hartford Courant: "I'm just planning to see what happens. I'm not going to force another. The last thing I want to do is come across as being obnoxious. I don't want to do anything outrageous with President Obama around like last year. We'll see what happens, see what he remembers [from last year] and go from there."

It's probably best that Dolson is now in the WNBA. There's no telling what the White House ceremony would look like next year if the Huskies returned for their third straight trip.