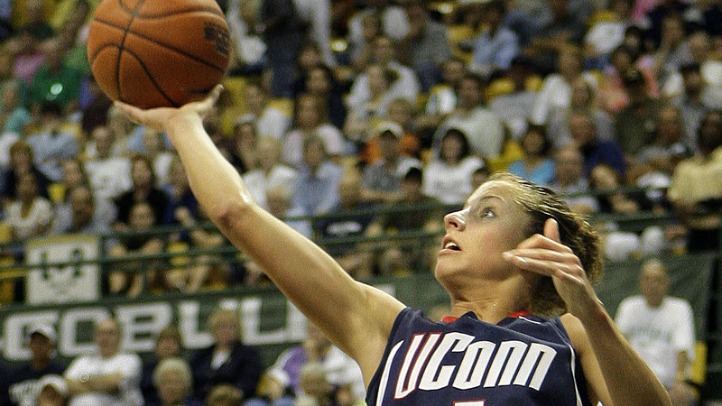 Anytime the discussion has turned to UConn basketball in recent weeks, it was usually in reference to the men's team. Specifically, Andre Drummond joining the program or Jim Calhoun deciding to keep coaching.

On Monday, the women's team got some good news. And while it's not quite the caliber of "Best big man in the country is coming to Storrs, national title all but defended," it's reason to think that Geno Auriemma's squad will be in the national championship conversation once again.

Caroline Doty, the sharp-shooting point guard who missed the 2010-11 season with a knee injury and who re-injured her knee over the summer, has been cleared to play by the program's medical staff. Details via the Hartford Courant's John Altavilla:
It's been a long, complicated and frustrating process for Doty since having surgery to repair a torn left ACL Aug. 31, 2010. Doty, who did not play last season, was scheduled to be cleared in early July. But she sprained her left knee in a drill on June 29 and that set her back again.

Of course, Doty's status is critical for the 2011-12 team, which will try to qualify for its fifth straight Final Four. She would immediately take over the point guard position and give UConn another solid perimeter scorer and great free throw shooter.
If there was a chink in the armor for the Huskies last season, it was the lack of a perimeter game. Tiffany Hayes, Maya Moore and Bria Hartley were capable outside shooters, but they were never consistent enough to spread defenses out. Doty provides that, as does freshman Kaleena Mosqueda-Lewis, one of the country's best high school players a year ago, and a sharpshooter in her own right.

During the team's four-game European exhibition tour last month (Doty missed it while she recovered from a setback over the summer), the first time the freshmen saw game action with the rest of their Huskies teammates, Mosqueda-Lewis looked right at home. She scored 12, 22, 18, and 15 points, and in the team's second game
here's what we wrote:

"Mosqueda-Lewis seems like an old hand at this and she hasn't yet played in a Huskies regular-season game. She led UConn with 18 points against TDT Slammers, including 4 of 7 from behind the arc. Her presence not only opens things up under the basket, it means more perimeter opportunities for senior Tiffany Hayes." And in her 22-point outburst we added:
"she jump-started the Huskies' blowout when she drained five-straight 3-pointers."

With Mosqueda-Lewis and Doty on the floor at the same time, to go along with Stefanie Dolson's presence underneath, opponents will have to pick their poison. Guard the perimeter and give up easy baskets in the paint or clog the lane and watch the Huskies' backcourt rain threes.

For Auriemma, it's a good problem to have.