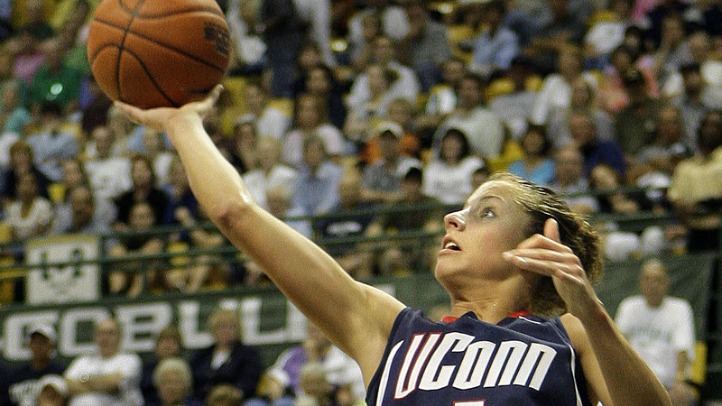 It's taken a year, but Caroline Doty is back as UConn's starting guard, and hopefully for good. After being sidelined for the 2010-11 season with an ACL injury, and missing the team's European exhibition tour last month following a setback, Doty has been cleared by the program's medical staff to resume playing basketball.

Except this time, she'll do it while wearing a knee brace anytime she steps on the court.
"No one likes a brace, but I can't complain about it," Doty said, according to the Hartford Courant. "I don't ever want to play without it. That would be stupid."
Now Doty wants to make up for lost time, which includes missing out on Maya Moore's senior season and the Huskies' fourth consecutive run to the Final Four. But she also has to be careful not to take on too much too soon.

"[Coach Geno Auriemma] said to me one day, 'Who do you think you are, Kobe Bryant?' " Doty said, via the Courant. "'You are like a kid going into the candy store and eating all the candy.' I told him that I was hungry. He told me if I get too full, I won't be able to do anything."

The plan is for Doty to assume the point guard job, something that was thrust upon then-freshman Bria Hartley last season. Hartley, to her credit, flourished in the role, even if she experienced the occasional freshman growing pains.

It's not yet clear how the rest of the starting backcourt will shake out, although it's safe to assume that Hartley, Tiffany Hayes and Kelly Faris will all see plenty of playing time. Doty's court presence will extend beyond leading the offense; she's also a deep threat, something the Huskies struggled with at times last season.

***
In related women's news, Auriemma was asked earlier this week about a possible move to the ACC after 32 years in the Big East.

"No matter what anybody says, no matter what anyone in the media believes UConn should do, we are in the Big East right now and that's what our focus is," Auriemma told the Courant Monday before leaving for Europe with the USA Basketball national team.

"If and when there is a discussion or an opportunity that would make us want to revisit that, then we'll deal with it at that time. But you can't just call a commissioner or a league president, no matter what league it is, and say, 'Hey, we want in!' That's not how it works. You don't call someone and tell them I'm coming to your house for dinner. You need to first be invited over.

"And no one knows what the future holds or what's going to happen."

Hopefully, this will give Louisville coach Rick Pitino some peace of mind.