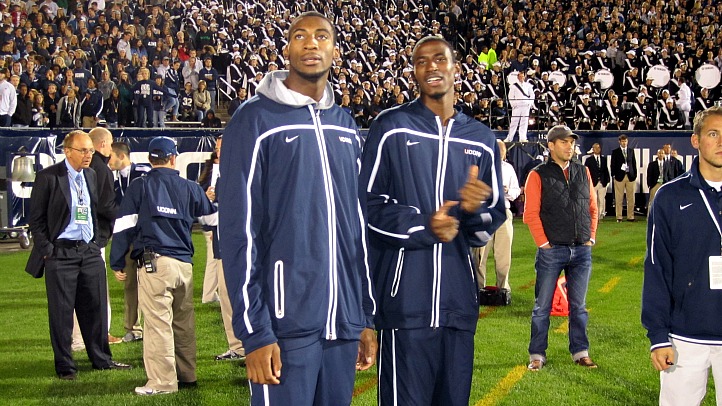 There may be very little certainty when it comes to UConn's future in the Big East, but there's no confusion regarding expectations for the 2011-12 Huskies men's basketball team. Even without Kemba Walker, they're loaded, and while maybe not the preseason No. 1, no one would be surprised if UConn made another run through March Madness.

But let's not get too far ahead of ourselves here. First things first: Midnight Madness, which officially kicks off in a week, and then we'll go from there. In addition to Jeremy Lamb, Shabazz Napier, Alex Oriakhi and Roscoe Smith, UConn expects big things from freshmen DeAndre Daniels and Ryan Boatright. The other freshmen, Andre Drummond, could prove to be the difference between a Huskies team that competes or dominates each time it takes the floor.

For now, we can only judge the new faces through informal workouts and pickup games. They may not be structured practices, but it's enough for onlookers to glimpse Drummond's potential and, well, people are impressed with what they've seen.

Laudatory comments via the Hartford Courant's Dom Amore.

"He's very athletic," Alex Oriaki said. "The way he can move, the sky's the limit for that kid."

Jeremy Lamb: "He's been very impressive."

Kemba Walker: "He's a monster. He doesn't even know what he has yet."

Amore writes that Drummond has been working on his mechanics at the free throw line, and Napier noted that the freshman has been impressive for many reasons, including that he's a "good listener."

Drummond's decision to attend UConn this year caught just about everybody off guard, including, it turns out, Walker. "I was very surprised," Walker said via the Courant, "I didn't realize [he was considering it], but I think he made the right decision. I wouldn't want to see anyone pass up on the chance to go to college, especially a school like UConn."

Jim Calhoun agrees.