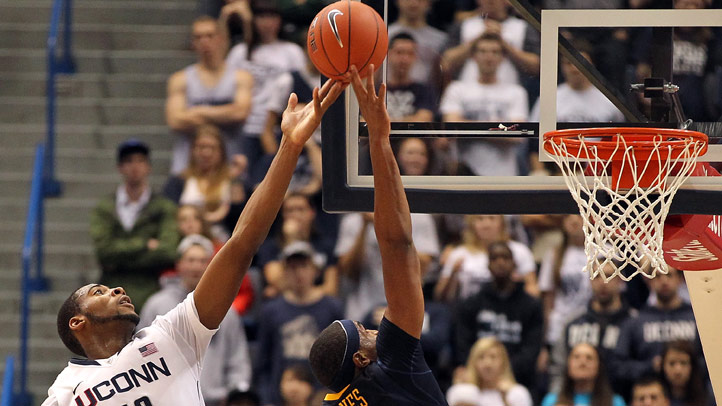 The Huskies don't play again until Saturday, when they host the Fighting Irish in the XL Center. That gives us a chance to take a look back at Monday's victory over West Virginia, probably the biggest win of the season for a young team still searching for an identity.

Andre Drummond, the most sought after high school recruit in the country just a few months ago, had his best game at UConn, scoring nine of his 20 points in the final eight minutes.

"I felt a lot more comfortable today," Drummond said afterwards. "I slowed everything down. I'm not questioning my shots anymore. I have confidence in myself. We had fire in our eyes [after the Huskies went down 10]. We said we're not losing this game no matter what."

Even Jim Calhoun was impressed: "Andre Drummond was special tonight," he said Monday. "He hasn't been special all season. He's been good, as you would expect for a freshman. But tonight he was special. He was the difference in this game. People forget — I don't — he had no points in the opener [against Columbia]."

Drummond played so well, in fact, that he was again asked about leaving for the NBA after the season. His plan for now is to return to Storrs but a lot can change in the next few months. Depending on how things unfold, there's the very real possibility that UConn could lose both Drummond and Jeremy Lamb but let's not get too far ahead of ourselves. First things first: Calhoun's team needs to play more consistently. And that starts with the guy most likely to leave.

"[Coach] challenged me, he told me they were going to be physical with me," Lamb said scoring 25 points against the Mountaineers. "They tried to do that [Monday], but my big men set good screens for me and really got me free. I was able to get open, get some open shots, get to the rim a couple of times, and really make some things happen. So yeah, Coach definitely said, got to go full speed because people are going to be holding you and really trying to get under your skin."

Which was Rutgers' gameplan to disrupting what Lamb does and beating the Huskies over the weekend.

"[Lamb's] not a physical guy," Rutgers freshman Myles Mack said via the Hartford Courant. "He's really nonchalant. He doesn't like being bumped, so we bumped him a little bit and threw him off."

"Being bumped" is a big part of the NBA game so it's something Lamb, who also needs to get stronger, will have to get used to. But it's a process and given all of Lamb's success in such a short period of time, it's reasonable to expect that he does have flaws. And if his biggest weakness is that he needs to add muscle and play a tad more physical then the Huskies are in good shape as they get deeper into their conference schedule.