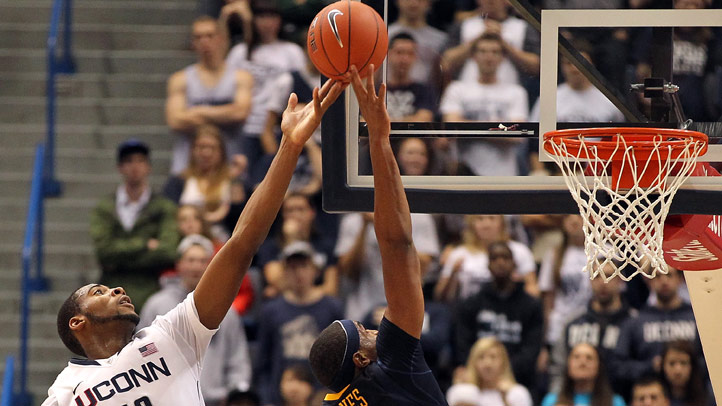 As expected, center Andre Drummond's career at UConn will end after one season. The 6-11 phenom arrived in Storrs with much fanfare last summer and now he'll follow sophomore guard Jeremy Lamb out the door to enter the NBA Draft. Multiple sources confirmed to the Connecticut Post's Kevin Duffy that Drummond will turn pro, becoming the first one-and-done player in Jim Calhoun's tenure. He could make an announcement as soon as Thursday afternoon.

Chad Ford of ESPN.com has Drummond as the No. 5 player on his list of top 100 players behind just Anthony Davis (Kentucky), Michael Kidd-Gilchrist (Kentucky), Bradley Beal (Florida) and Thomas Robinson (Kansas). Drummond is the top center in the draft, but is very, very, very raw. Which means that he'll learn by watching early in his NBA career, spending most games on the end of the bench. That was one argument for him returning to Storrs -- a chance to improve while playing. But it's hard to begrudge anyone the chance to earn millions of dollars and for Drummond, the time to do that is now.

Also reportedly aiding his decision: UConn's 2013 postseason ban as part of NCAA sanctions resulting from low Academic Progress Rate scores. It's the same reason Alex Oriakhi used when he transferred out of UConn last month.

During his one season in Storrs, Drummond averaged 10.2 points, 7.7 rebounds and 2.7 blocks per game but his style lacked nuance and finesse instead relying mostly on physically overpowering opponents. And while there's certainly a need of that on NBA rosters, Drummond will need to become a more well-rounded player to fully realize his potential. Coaches and scouts know this and teams go into June's draft thinking not about the immediate future but about Drummond's long-term impact. But that doesn't mean there aren't concerns.

"Depending on who you talk to, some (scouts) look at his body language and are down on him and think he's a bust waiting to happen," NBADraft.net founder and editor Aran Smith said according to the Post. "Others think he gave great effort, and think the offense or lack of production at times is just a confidence thing."

"I have a hard time thinking about taking someone ahead of (Drummond) because I think there's a big drop-off in potential," said Smith. "He's going to be scaring teams in both sides. If you don't take him, he can burn you, if you do take him, he might still burn you."

The Huskies, meanwhile, are now without 60 percent of their starting lineup from a year ago. And when the team takes the floor for the first time in 2012-13, there won't be one starter remaining from the 2010-11 championship team. Shabazz Napier, Tyler Olander, Roscoe Smith and Niels Giffey all contributed as freshmen during that title run but none have yet to emerge as a consistent leader (Napier is closest but it's fair to say that he didn't live up to those expectations in 2011-12).
The silver lining, if you can call it that: Calhoun is expected to return with the aim of getting the program back to where it's been for most of the last quarter-century.