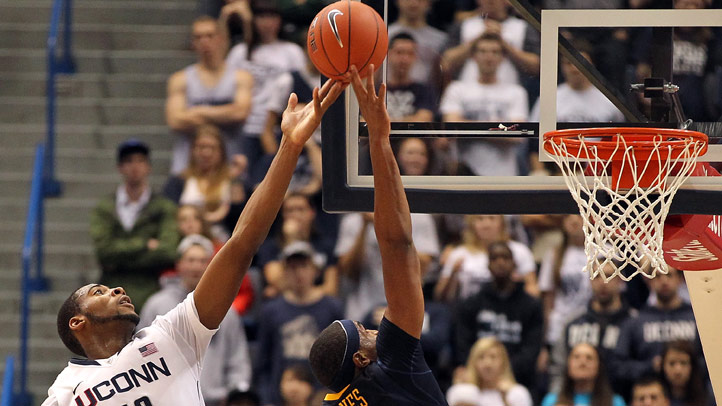 Just like Jeremy Lamb, Andre Drummond has the next few weeks to convince prospective NBA employers that his laid-back demeanor isn't a reflection of how the full-bore on-court intensity he's capable of. It's become an issue because of Drummond's disappointing freshman season at UConn, not to mention that the big man could be a top-5 selection in the NBA Draft later this month.

"I always have a smile on my face," Drummond told the Hartford Courant's Dom Amore last week. "Some people see me and say, 'he's too happy all the time, he's not really serious.' But that's just the person I am. I play serious all the time. "I'm not the one to beat on my chest or roar or make noises to show my feelings. Basketball is a game like poker – you don't show how you feel at certain times. So I always smile, so you never know how I feel."

The problem for teams in need of dominating presence in the paint is that it's still unclear which Drummond will show up from one game to the next: the imposing shot-blocker and rebounder, or the player who sometimes seemed overwhelmed by the moment.

"He could be a (bust like) Darko (Milicic) or he could be a (star like) Dwight Howard," Ryan Blake, the senior director of NBA scouting operations, told the Sacramento Bee. "And that's scary at times."

But that's the rub -- and a reminder of the inexact science that is the draft process. Blake describes Drummond as "a true center without true experience," which UConn fans would certainly agree with. But Drummond, who met with the Sacramento Kings last Thursday, was unequivocal in describing his on-court style.

"I'm going to work my tail off on defense, grab a lot of rebounds, block some shots and put some points on the board," he said via the Bee. "It's going to be tough. I'm going to be making a big transition from college to the NBA. … I'm not saying I'm going to go out there and drop 30 and 15 every game. I'm saying I'm going to go out there and do the best I can."

In his post-combine mock draft, CBSSports.com's Jeff Goodman has Drummond going sixth-overall to the Trail Blazers noting what we've been hearing for months now: "It's a roll of the dice, but it's difficult to pass on someone with the physical package of Drummond. He's a specimen, but the question is whether he will be motivated to play with intensity at the next level."

Drummond says yes.