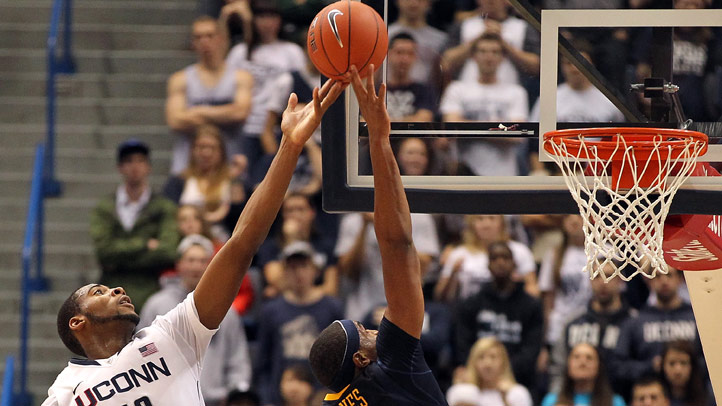 The season's been over for weeks but this could be the most important stretch of the year for the Huskies' basketball program. Early indications are that Jim Calhoun plans to stay but he should make an official announcement later this week, according to the Connecticut News's Kevin Duffy. Sophomore All-American Jeremy Lamb could declare for the NBA (or choose to return to Storrs which, frankly, seems like a long shot) as soon as Tuesday and freshman center Andre Drummond could do the same in the coming days.

We've long known about the possibility of losing three players (Alex Oriakhi has already been released from his scholarship) and a long-time coach but that doesn't chance the fact that UConn will have to adjust and, in all likelihood, rebuild in the coming years, especially in light of NCAA sanctions that will prevent the program from competing in the postseason in 2013.

But perhaps there is a silver lining to all this. While Lamb appears gone, Duffy's sources indicate that Drummond "is on the fence" about leaving school, especially after just one year.

"He's going to be a top five pick, and the general rule of thumb is to bolt if you're guaranteed to go that high," Duffy wrote Monday. "Drummond, as raw a top-five prospect as you see, is a special case. It's not so cut-and-dry for him."

Duffy outlines the pros (NBA, millions of dollars, chance to play in the postseason) and cons (more playing time, a college degree, closer to his family) of the decision.

ESPN's Chad Ford ranks Drummond fifth on his top 100 players, but the players ahead of him -- Anthony Davis, Michael Kidd-Gilchrist, Bradley Beal and Thomas Robinson -- are all further along in their basketball development. There's no question that Drummond is a physically gifted but he's extremely raw, too. Another year of college would, in the long run, do him more good than sitting on the end of an NBA bench. Then again, North Carolina's Harrison Barnes returned for his sophomore season and didn't help his draft stock at all.

It's hard to begrudge anyone, much less a teenager, for taking millions to play a game. Is returning to UConn the "right thing"? No, of course not. It would benefit the program and probably mold Drummond into a better player, but professional sports is one of the few jobs in which salary isn't based on education. Either way, we should know something soon.