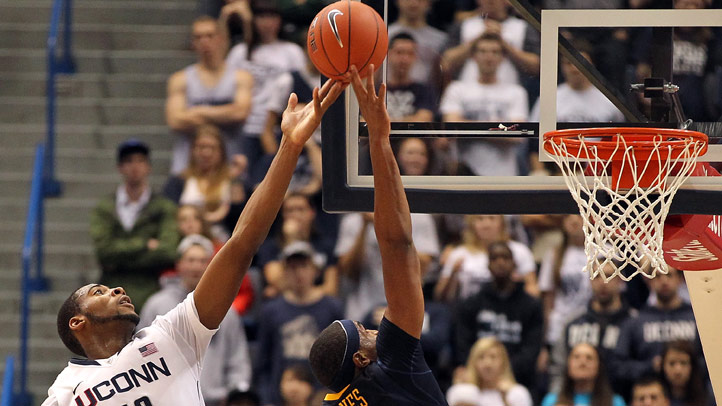 Today is the day. In just a few hours, Andre Drummond, the nation's top high school recruit just 12 months ago, will begin his NBA journey. The 6-10 , 279-pound big man is an untapped well of potential and that is what has so many teams intrigued. It's also why every mention of his raw athleticism is inevitably qualified by some form of "he could also be a bust, too."

And most of those concerns come not from his lack of experience but because of his work habits.

Coach Jim Calhoun said last week whichever team ends up with Drummond is "getting one heck of a piece of clay. It's going to take time for him to develop; it may take five years, but you're going to have something awfully special when he does develop. And Andre's a great, great kid; he wants to learn. You'd rather have a kid that doesn't have all the answers than a kid that thinks he has all the answers."

But that hasn't always been the perception in the weeks leading up to the NBA's biggest offseason spectacle. On Wednesday, however, Drummond took one last opportunity to set the record straight, telling the media that "Whatever team I go to, all that talk is going to be put to rest, because I am a hard worker. There's nothing wrong with my motor."

And while he said that he isn't bothered by the skeptics, it sounds like he's using their words as motivation. "I don't get upset about it," Drummond said, "because no one really knows what I'm capable of doing. ... All I know is that I'm going to come in and work hard and all that talk about me being a bust is going to be put to rest."

And Drummond isn't just playing for himself. He's also playing for his mother.

"In fact, [Tuesday] was my mom's last day of work," he said Wednesday. "She's going to have a lot of work to do — she is going to be my manager. She's moving to live with me whether she wants to or not, and I'm taking my sister, too. … It's a great feeling to know [my mother's working] time is over," he continued. "And after all these years she has been helping me, now I get to help her."

Drummond is expected to be a top-10 pick, and could go as high as No. 2 after Kentucky's Anthony Davis. If he's selected second, he'll make $3.8 million next season; if he slips to seventh, that number slips to $2.3 million. Either way, with the Huskies' impending tournament sanctions, Drummond's decision wasn't a tough one. According to the Courant, moments after UConn's loss to Iowa State in the NCAAs last March, former Husky big man Alex Oriakhi told Drummond that he "needed to go and take care of his family."

And that's what he aims to do starting Thursday evening.