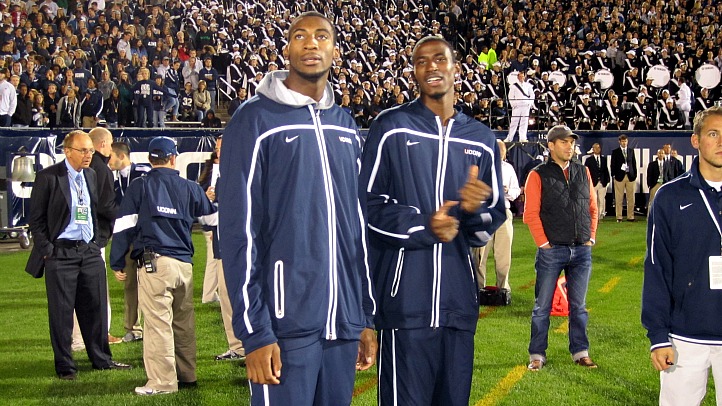 Andre Drummond's UConn career didn't get off to the same rollicking start that Kaleena Mosqueda-Lewis enjoyed, but even the best high school players in the country go through some growing pains. For Drummond, they were short-lived. On Monday he was named the Big East Rookie of the Week.

Through seven games, he's averaging 8.1 points, 7.0 rebounds, and 2.9 blocks in just over 23 minutes. During the Battle 4 Atlantis holiday tournament last week, Drummond averaged 11.3 points, 8.0 rebounds and 4.0 blocks.

Drummond's best performance in his short career came against Florida State in the Huskies' overtime win. His 12 points and 10 rebounds made for his second double-double of the season, to go along with seven blocks and three steals.

Coach Jim Calhoun bemoaned his team's lack of aggressiveness on the board against Columbia after the team's first game and Drummond took that message to heart; he's had 26 offensive rebounds in the six contests since.

Drummond's emergence coincides with Alex Oriakhi's stint on the bench. Late last week, former Huskies player Jamal Coombs-McDaniel tweeted "Got my guy [Oriakhi] coming off the bench. sheesh ... two-year starter, where's the loyalty." To which Oriakhi added: "I know sum BS."

But on Friday, a day after the tweet, Oriakhi played his best game of the season, coming off the bench to score 14 points and grab 10 rebounds in 26 minutes of action.

"My back was to the wall, the way I'd been playing," Oriakhi said after UConn's 68-63 loss to Central Florida, according to the Hartford Courant's Dom Amore. "… I feel I should be starting, but if I'm not starting, I'm going to use it as motivation. If thinking I should start is wrong, then I guess I'm wrong. But I think if you asked any player on this team, they'd say they should be starting."

Maybe. But Oriakhi is a notoriously slow starter, and he acknowledged as much last season. Plus, Calhoun has little tolerance for underachievement, though we don't know if that has anything to do with Oriakhi's current situation.
We do know this, however: in the scheme of things, the five players on the court at tip-off means little. Last season, Tyler Olander and Neils Giffey had more starts than Shabazz Napier. No one would say that either player was more important to running the Huskies' offense in Kemba Walker's absence, especially during the NCAA Tournament run.

Oriakhi should talk (and tweet) less and continue to let his play speak for itself.