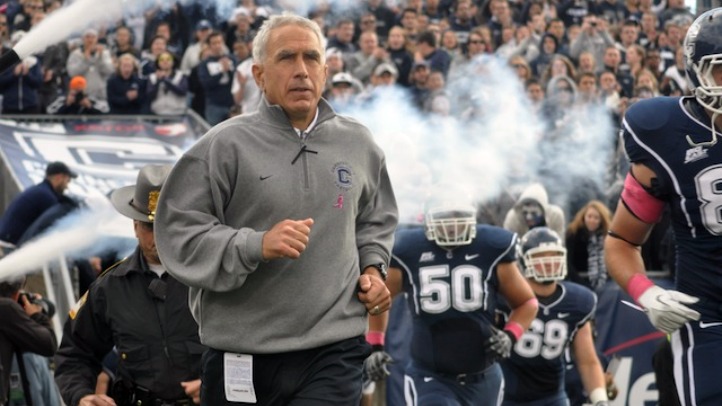 Defensive lineman Kendall Reyes was the Huskies' best defensive player a season ago on what was a pretty good defensive unit. He's now a member of the San Diego Chargers, who selected him in the second round of last month's NFL Draft. Which means that Don Brown will have to account for someone who not only controlled the line of scrimmage in the running game but wreaked havoc in the backfield in passing situations.

According to ESPN.com Big East blogger Andrea Adelson, the person to help mitigate those concerns is already on the roster. In Adelson's post on conference players to watch, she name-checks defensive tackle Ryan Wirth: "The Huskies lost an NFL player in Kendall Reyes, along with their other starting tackle, so this is a huge question going into the season. But Wirth showed he can make an impact inside, especially after his spring performance, with 4.5 sacks and a safety."

He'll be joined by returning contributors LB Sio Moore, CB Blidi Wreh-Wilson, and DE Trevardo Williams (we wrote last season how Williams was emerging as a legit pass-rusher).

Last week, Adelson also addressed the other UConn strengths and weaknesses coming out of spring practice including running back depth (Lyle McCombs was arguably the biggest surprise of the 2011 season) and the big-play potential of wide receivers that include Mike Smith (he missed '11 because of academic issues), return specialist Nick Williams and Boston College transfer Shakeem Phillips.

Regarding the weaknesses, Adelson notes the offensive line (they're now without their two best players, Mo Petrus and Mike Ryan), kicker (Dave Teggart signed with the Bears as an undrafted free agent recently) and -- wait for it -- the quarterback position.

But unlike a year ago, the Huskies have a mix of experience and talent to choose from. Returning starter Johnny McEntee now has a full season under his belt and newcomers, freshman Casey Cochran and transfer Chandler Whitmer will battle sophomore Michael Nebrich and Scott McCummings for playing time. From the perspective of April, where we only have a handful of practices and one intrasquad game to go on, Whitmer might be the early favorite for the gig. As always, however, head coach Paul Pasqualoni is in no hurry to make out a depth chart.

"They've got a big summer and a big off-season program ahead of them," he said last month of his quarterbacks. "This is not the time, obviously. There is no reason why we would do that now. I want to get back into preseason camp [in August] and start the whole process again. Once we get into camp, we'll try to make a decision as soon as we can."