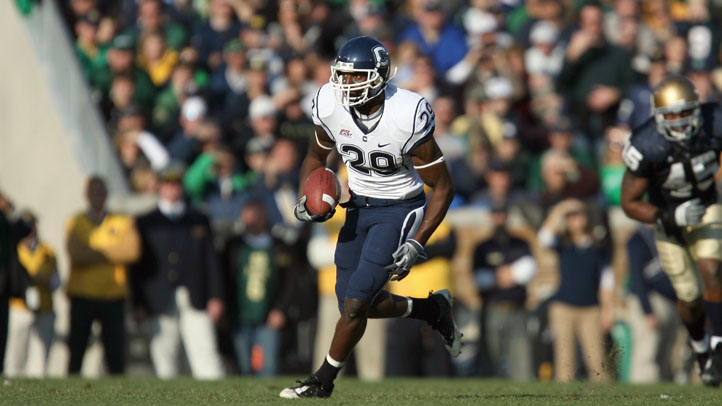 Marcus Easley's NFL career has been beset by injuries and bad luck. The former UConn wide receiver was taken in the fourth round of the 2010 draft and missed his rookie season after hurting his knee in training camp, and wound up on injured reserve in 2011 because of a heart condition.

He's been cleared to play and the hope is that he can emerge from a crowded field as the Bills' No. 2 wideout to line up opposite Stevie Johnson. It's a task that got more difficult when the Bills drafted T.J. Graham of N.C. State in the third round of April's draft.

Still, Easley remains upbeat. "It's never really been easy for me my whole football career," he said earlier this month during a radio interview. "To be able to come out here on the professional level, everyone wants to have a good jump start to their career. It was just so unexpected. Injuries, no one plans on that happening, but it was just unfortunate."

As for Easley's prospects this season, BuffaloBills.com writer Chris Brown admits that it won't be easy to get on the field.
I think Easley's situation certainly wasn't made any easier by the addition of Graham. Graham is clearly the fastest wideout on the field. It's not even close by my eye. He's very, very explosive. That being said he's still trying to master the base concepts of the offense.

He was however, given a ton of reps with the first unit through the spring workouts for a reason. They want him out there to stretch the field vertically. I just think when the pads go on it may prove to be harder for Graham to make plays consistently because he may get knocked around a bit.
Brown adds that "I still believe that Easley has the best physical skill set of the entire receiving corps for the outside receiver role they're trying to fill opposite Stevie Johnson" and that the coaches have noticed Easley's potential, too. During minicamps they gave him more first-team reps.

Ultimately, Brown acknowledges that Easley's fate will come down to staying healthy.

"He plucks the ball out of the air, rarely body catches, can make plays with DBs hanging on him or in traffic. Really the only thing that has stopped him is his body (injury, medical condition). Having three years of exposure in this offense will be an asset, but he's got to get through camp healthy and not miss time."