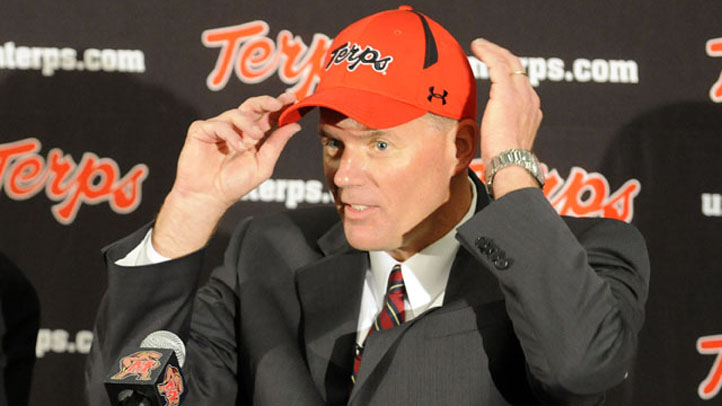 ESPN's Keith Olbermann might have recently called Randy Edsall the worst person in sports, but the Maryland coach -- and the former Huskies coach -- has the Terps sitting at 2-0.

UConn, meanwhile, had a bye week after losing the home opener to the Towson and on Saturday they will host -- you guessed it -- Maryland.

Following the Terps' 47-10 shellacking of Old Dominion that included 333 rushing yards and 587 yards of total offense, Edsall was asked about returning to Storrs.

"I'm not really worried about that right now," Edsall said, via the New Haven Register. "I'm sure I'll be able to get a chance to talk about that plenty during the week. I'm just going to enjoy this one, do my normal Saturday routine, and I'll start worrying about that when they get there, and we'll address all those things next week. But I'm going enjoy this one. Wins are hard to come by, so I'm going enjoy this one."

Uh huh.

A year ago, the Huskies went to College Park and beat the Terps, 24-21, something that seems unlikely this season, even though UConn's played just one game. But maybe some advice from that game will serve the team well this time around.

"Coach always tells us that there is going to be adversity, but we stepped up and played throughout," defensive tackle Ryan Wirth said at the time. "We got the "W,' and that's all that matters."

"Our guys are pretty grounded, they're pretty level-headed," Pasqualoni added after that win last September. "I think they handled adversity very well last week. They handled victory very well this week. I think they know it's one game."

This time, one game is a big deal for the Huskies, because if they fall to 0-2, their season will effectively be over. Any other year and that's a gross exaggeration, but after the Terps, UConn will face Michigan. And, well, that's going to be something.