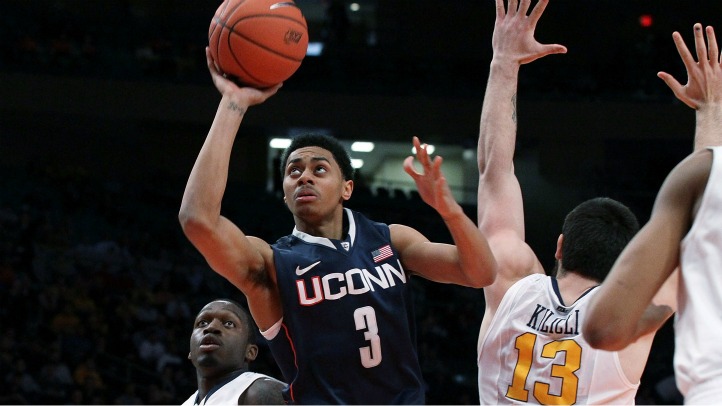 When it comes to evaluating basketball talent, ESPN analyst Fran Fraschilla knows what he's talking about. He coached St. Johns, Manhattan and New Mexico before moving in front of the camera. So when he weighs in on Jeremy Lamb's NBA prospects, it merits our attention.

We've mentioned previously that Florida's Bradley Beal and Duke's Austin Rivers were the only shooting guards in next month's NBA Draft expected to be taken higher than Lamb. Fraschilla thinks that Lamb could possibly be the first shooting guard off the board.

"His offensive game will be compared to those of a couple of Huskies shooting guards before him, Ray Allen and Richard Hamilton," Fraschilla wrote Tuesday, making a comparison Huskies fans are quite familiar with. Both mastered the catch-and-shoot game at UConn, especially in the mid-range off curl screens. Interestingly, although just 180 pounds, Lamb shot 60 percent inside the arc, which I believe bodes well for his NBA future as he adds weight and increases his strength."

Fraschilla notes that while Beal and Lamb have similarities -- both came into college as outstanding shooters -- they're very different players. Beal is 6-3, 207; Lamb is 6-5 with a frame that could handle 15-20 additional pounds. Still, they're likely neck and neck in most teams' eyes, something that won't change until private workouts and interviews take place. For now, though, Fraschilla likes Lamb.

"Personally, I'm leaning toward Lamb because of his size, length and effectiveness in an NBA offense's 'sweet spot,' the 15- to 18-foot range," he said. "And I'm willing to overlook the Huskies' dysfunctional season with Lamb as their centerpiece because I can't ignore the poise he played with as a freshman. And he did go for 23 or more points eight times this past season, despite the team's poor chemistry."