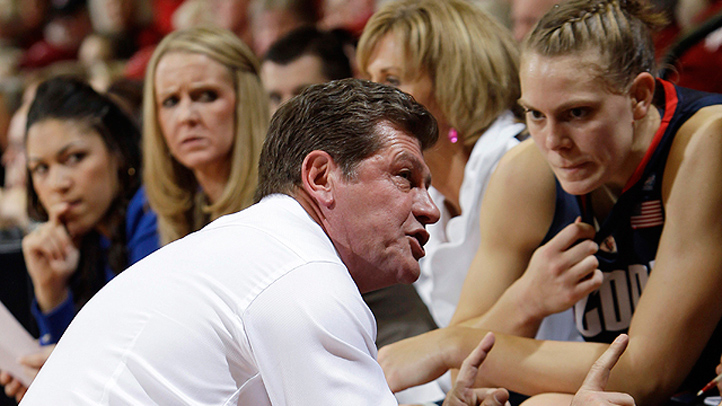 There aren't many colleges in the country where the recruiting class for the women's basketball team is as important (if not more so) as the men's team. Storrs is one such place, and the incoming freshmen for Geno Auriemma's 2011-12 team have everyone thinking positively about the prospects of life after Maya.

Maya Moore was the face of the women's team for four years, leading the Huskies to four Final Four appearances and back-to-back NCAA titles in 2009 and 2010. She's a rookie with the Minnesota Lynx and UConn doesn't appear as if it will miss a beat now that she's gone.

Kaleena Mosqueda-Lewis, Kiah Stokes and Brianna Banks are already enrolled in classes at UConn and preparing to make the jump from big fish in little ponds to the rough and tumble world of Big East basketball at arguably the most high-profile program in the country.

Stokes and Mosqueda-Lewis met with the media last Friday (Banks was on her way home to Georgia for the weekend). We wrote Monday about Mosqueda-Lewis comparing high school to the Under-19 US National team (there's a huge difference -- imagine that).

Stokes, a 6-3 center, talked about the transition, too -- this time to college. "You think you are working hard in practice in high school," she said, "but when you get here (to Storrs), you realize working hard in high school is not like working hard in college."

As for Stokes' impression of Mosqueda-Lewis' game, it' pretty simple: "Kaleena makes shots like it's her job, she rarely misses."

That will come in handy, not only because the three-point line will be a foot farther from the basket next season (for what it's worth, Geno Auriemma is unconcerned), but a consistent perimeter game -- something the Huskies lacked in 2010-11 -- will open things up for Stefanie Dolson and Stokes, should she get the playing time as a freshman.

From the sound of it, that shouldn't be a problem.

"Kiah was at the free throw line and I was NBA three range," said Mosqueda-Lewis. "I tried to shoot and she came out and blocked it. I was like, 'What?' She will be a great shot blocker with a nice mid-range shot. She and Stefanie Dolson should be deadly from the high post. And she gets rebounds at will. It seems like she just puts her hand up and grabs one."

Of course, what players think and what coaches see are two different things.

"It's always wait and see with freshmen. People expecting Maya Moore to average 30 a game right away in the WNBA know it hasn't happened yet," Geno Auriemma said recently. "Point guards and centers are more likely to have an impact from day one. If you are one of the other guys, and need people to get you the ball, that takes more time.

"One thing Kaleena does as well as anyone I have ever seen is shoot the ball. Now, how well will she do the other things? That will take time. But the thing you love about her is she's aggressive, tough and knows how to win."
Sounds familiar.