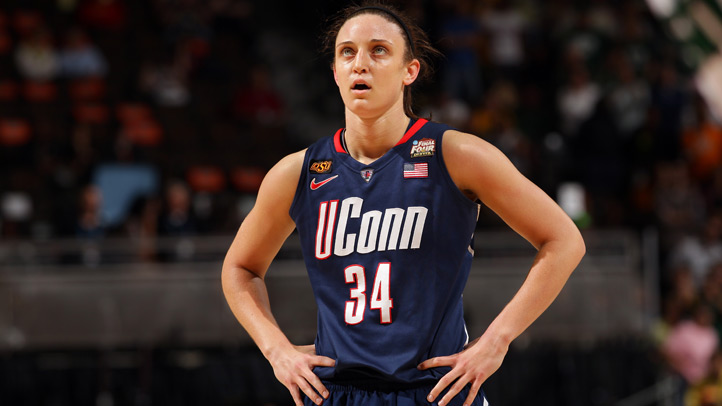 Kelly Faris' UConn career is officially over. One of the best all-around players to ever come through Geno Auriemma's program took her last exam Wednesday and now it's on to the WNBA where she was a first-round pick last month.

"I'm excited," Faris said according to SNY.com's Carl Adamec. "I don't have to be graded anymore. It will be different to have a basketball life and not have a school life or class or study hall. I'm glad. It's a great accomplishment."

Interestingly, Faris, who was known for her toughness at UConn, begins here professional career with an injury. She's currently in a walking boot after suffering a sprained ligament in her foot in the Final Four matchup with Notre Dame.

"It won't be long," she said. I'm almost good to go. Probably the 15th or 16th (of May) I'll try to get back into it. I wanted to play but this is probably the only time that I'll have to sit. You go from one season right to the next and it's hard. So this was the best chance that I had to let it heal.

"(The Sun coaching staff) told me to relax a bit and take the load off of my foot. It wasn't the easiest thing to do. I did some lifting and tried to get some cardio in where I could. But it was just a lot of rest."
The WNBA regular-season opener is May 25 so it's reasonable to expect Faris to be good to go by then. Faris leaves UConn with two national titles and 154 consecutive games played, a record she shares with Maya Moore.

"I think I've said it a thousand times," Faris admitted. "I couldn't have asked to go out a different way and with a better group of girls. It meant a lot because of how hard we had to work for it and the struggles that we had throughout the season. On the outside it probably didn't look like much but on the inside we were frustrated and not satisfied with what we were doing. It was the right way to go out.

"This last month's been very stressful but it was a good stress to have," she continued. "It was a big whirlwind. We got back from winning the national championship and then I had the WNBA orientation. I was excited to get drafted. It hasn't all soaked in yet. Maybe once I graduate, that will be out of the way and I'll have all my focus here. It might be 10 years down the road that I think, 'Wow. What did I accomplish in college?' Then coming here hopefully we'll accomplish quite a bit."

Faris can now tick one more box on her list accomplishments: soon-to-be college graduate. Next up: the WNBA.