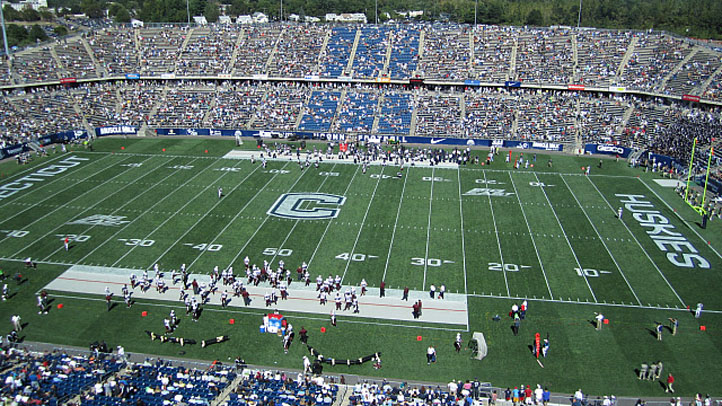 On Wednesday, we wrote about the UConn football program's recruiting budget. Of the six Big East schools with available data, the Huskies ranked second behind Rutgers, which parlayed it's first-place finish into a top-25 recruiting class.

Earlier this week, we also noted that the latest Huskies' commitment, Texas high school quarterback Richard Lagow, visited Storrs before announcing his decision and was "shocked" by the team's facilities. And not in a bad way.

Which is just more evidence that Paul Pasqualoni and his staff are serious about taking UConn from a middle-of-the-road Big East squad to an annual bowl contender. Just so happens that ESPN.com Big East blogger Andrea Adelson ranked the conference football facilities and the Huskies were No. 2, this time behind Louisville. Here's what Adelson wrote: "The Huskies have a state-of-the-art football facility, in addition to an 18,000-square foot training facility. The biggest issue is that Rentschler Field is in East Hartford, Conn., about 21 miles away from campus."

You can view the Burton Family Football Complex here, and the Mark R. Shenkman Training Center here.

As for the Rent, the Huskies have been there since 2003. They played at Memorial Stadium from 1953-2002, which is currently being torn down to make room for the UConn Basketball Development Center.

And while the current stadium won't ever be mistaken for an SEC venue, here's something worth remembering: former Baylor quarterback Robert Griffin III, now a rookie with the Redskins, was asked this spring about the toughest place he played in terms of crowd noise.

"The thing that people think is when you go to these big stadiums and they have 80,000 people or 100,000 people, that these are the toughest stadiums to play at, but really, those aren't," Griffin said. "When you have that many people, most of the time, the fans are pretty far away from the field. The toughest places to play are the ones that are jam-packed, are really tight to the field and sit about 45,000 people. …

"When we played at UConn my freshman year, that was the loudest place I've ever been as a football player," Griffin continued. "The stands are right next to the field, it was packed, and everyone was yelling. That was probably the coolest place for me to play at aside from Texas, Texas A&M and Nebraska."

And that, is how you take a bug and make it a feature.