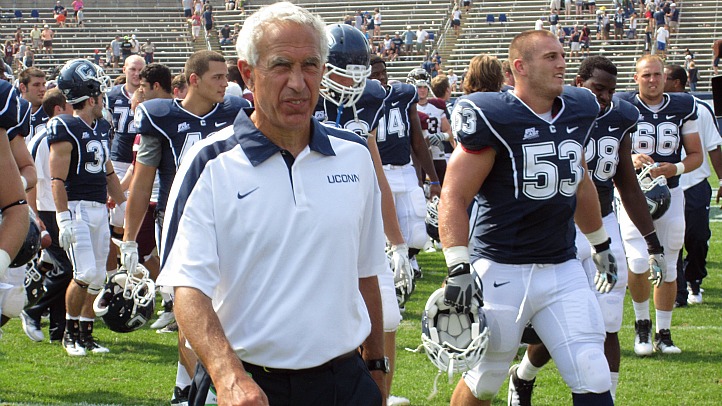 Signing Day is in less than a week and the Huskies, at least on paper and without the benefit of actually, you know, seeing how these kids will turn out, have become a bigger player in the recruiting game under coach Paul Pasqualoni. The Hartford Courant's Paul Doyle takes a look back at some of the best players to come through the program since UConn joined the Division I ranks a decade ago.

Thinking ahead, the Huskies have depth at some positions and plenty of questions at others. This isn't news; the quarterbacks went through growing pains in 2011, and the defense, especially against the run, was very good.

Which brings us to Pasqualoni's first recruiting class, set to take the field for the Huskies in 2012. When he arrived a year ago, Pasqualoni wanted the team to get bigger and that's reflecting in the recruits headed to Storrs.

"Kendall Reyes is a prototype," Pasqualoni told the Hartford Courant last week. "We've got linebackers, Yawin Smallwood, 4-3 middle linebacker prototype. I would say we currently have prototype guys in the program and I will also say we're going to try and increase that number." So what does "prototype" mean to Pasqualoni? "I'm a prototype guy and what that means is there's a certain size, for example on the offensive line, a certain height, a certain weight, a certain frame, you're paying attention to. Arm length, speed … so there are prototype sizes and measurements, measurables, at each position, so I would certainly like to have a team that's a great looking I-A team that's made up of prototype guys.

"Now there are exceptions, certainly. Wes Welker [of the Patriots] is an exception. Anybody would love to have Wes Welker. Anybody would love to have [Huskies receiver] Nick Williams. He's a little bit shorter guy. Your team is not going to be 100 percent prototype but I would like the higher percentage on this team to have the measurables that give them — give us — the best chance to have success in regards to size, speed, athletic ability, explosiveness. So I am a prototype guy — but I'm not blind to the exception. I just don't want a team of exceptions."

Here's the reality: coaching only gets you so far. At this level, size and speed are just as important. You can have the best game plan in the world but if you don't have the players with the physical skills to execute that game plan it won't much matter.

Pasqualoni feels good about his first recruiting class and next week we'll know more about his second. If history and his words are any guide, these guys will be big.