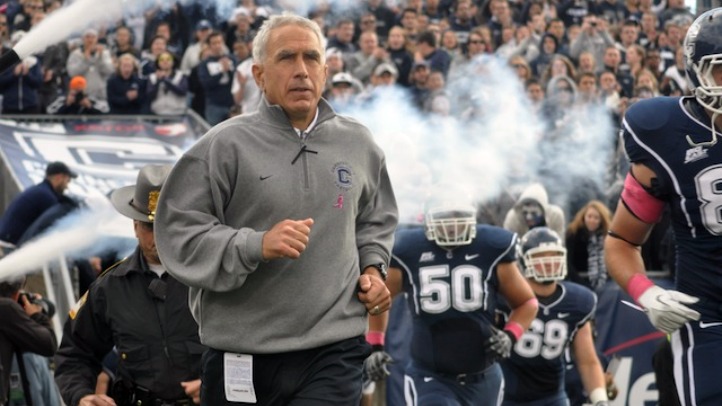 Randy Edsall may have gotten the Huskies to a BCS Bowl game, but he left shortly thereafter to become the head coach at the University of Maryland. He was never considered much of a recruiter during his days in Storrs, so even though some fans found the Paul Pasqualoni hire underwhelming, there were few concerns that he wouldn't be able to convince kids that UConn was a great place to go to school and play a little football while they were there.

Last week, Pasqualoni, 5-7 (3-4 in the Big East) in his first season with the Huskies, announced the 25 newest members of the football team. The group includes 20 high school players, two transfers, two post-grads and a mid-year enrollee. The biggest name: quarterback Casey Cochran, the two-time Connecticut Gatorade Player of the Year who is already taking classes and will be eligible to take part in spring practice. The Huskies' quarterback issues are well documented and assuming Cochran won't be asked to redshirt, there's every reason to believe that he'll be given an opportunity to win the starting job.

"Casey is very, very passionate about the game," Pasqualoni said last week at a press conference according to the Hartford Courant. "When we had him in camp I thought he played fast. I thought he anticipated very, very well. I thought he got the ball out of his hands very quickly. Now, from a fundamental standpoint, he's a young player. He needs to work on, like they all do, fundamentals and techniques and footwork. He seems to be able to handle information very well. I just like how quick he got back and anticipated things and threw the ball to the open guy. We're hopeful that we'll see that as we go through spring practice."

Speaking more generally, Pasqualoni was impressed by the group.

"I like the character. I like the profile of this group," he said. 'When I say profile, their character, their commitment, their passion for football, their willingness to do this the way we want to do it at the University of Connecticut.

"Every one of these guys … has the potential to really develop into good players. Now, are they all going to be good players next year? No. They're not all going to be starters and outstanding players next year but my experience with this, with the profile of guys we're bringing in here, that as the years go by I feel confident and very good about each of these guys' being able to really contribute to the program."

And ultimately, that's the goal. Land some bonafide stars, unearth some diamonds in the rough, add them to an ever-improving roster and get better each season. We say it all the time but recruiting is the lifeblood of a college football program. Pasqualoni not only understands that, he's gone out and done it. Now we'll just have to see how good this class can be.