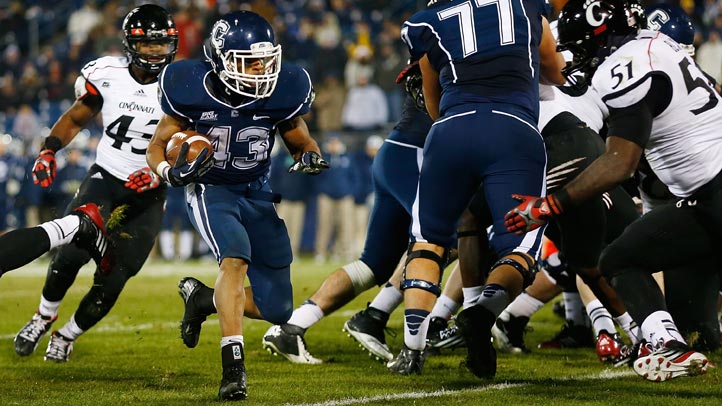 The path to the end of the season may have been slightly different, but the results in Paul Pasqualoni's second year as UConn's coach are the same: a loss to Cincinnati, a 5-7 record, and with it, any hopes of playing in a bowl. On Saturday afternoon, the Huskies fell to the Bearcats, 34-17, and for the second time in as many games, sophomore quarterback Chandler Whitmer headed to the sidelines after getting his bell rung.

That Whitmer was injured on a trick play involving wildcat quarterback Scott McCummings seems like a perfect metaphor for this offense, one that never found its footing and also never abandoned the wildcat philosophy that was rarely successful.

"I'm all right," Whitmer said after the game via SNY.com. "I guess I blacked out and they wanted to take precautions since I had a concussion last week. They just didn't want me to go back in. It's part of football. The doctors say you don't want to mess around with your head."

Whitmer will have plenty of time to recover; another five-win season for Pasqualoni means that the Huskies' season again ends in November. The theme over his 10-14 run? Close but never close enough.

"In the past two years, we've been in quite a few games that a touchdown or less decided those games," Pasqualoni said. "We had a few of those this year. A little thing here, field position there, a missed kick here, so, my outlook on it is as a coach, you are out there to win every game you play and it is always hard on the tough games to accept them. I always feel like yeah we should have won that game. There were games that we coulda shoulda or are capable of winning. No question about that."

No one would disagree with Pasqualoni's assessment. The question, of course, is when will it go from "coulda shoulda" to actual wins.

"I feel good about it," Pasqualoni continued. "We came in two years ago now, and certainly with one recruiting class, it takes more than that. Again, when you go back on this season, and you go back on last season, the margin of error isn't very great. In the end, what causes you to win and lose is a lot of little things. We've been in a lot of close games, just haven't won a number of close games as you would like as a coach. "

Pasqualoni has no doubt heard the grumblings about the job he and his staff have done. Athletic director Warde Manuel has supported Pasqualoni in recent months and there's no reason to think that will change. But that places even more importance on 2013; the roster will include two of his recruiting classes. There's still the issue of fixing the offensive line and restocking the defense with the departures of Sio Moore, Trevardo Williams, Blidi Wreh-Wilson and Dwayne Gratz, not to mention if quarterback Casey Cochran, now with a full year in the system, will make a play for the starting job.

"We're proud of our guys," Pasqualoni said. "A very good senior group that was tremendously loyal to UConn and the football program. Their leadership allowed us to be here tonight . We wish we could have done a little more. But it doesn't diminish the fact that we're proud of them."

Or, that for the second straight year, there will be no bowl game in UConn's future.