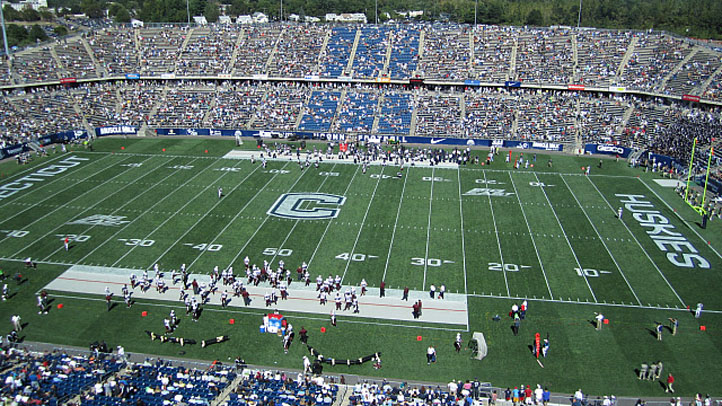 Well, we've waited most of the spring and all of the summer to find out who will be the Huskies' starting quarterback so what's another two days? Rentschler Field is being used as a distribution point for the National Guard's recovery effort from Hurricane Irene, which means the stadium won't be available for Thursday night's UConn season opener against Fordham.

The game is tentatively rescheduled for Saturday, and in the meantime it will give Fordham a few more days to prepare for their trip to Storrs. We've spent the weeks and months leading up to this game focusing on the Huskies. But this is arguably a bigger game for the upstart Rams, a program that went 5-6 in 2010 and didn't start offering scholarships until 2009.

According to the Fordham website, head coach Tom Masella tried to turn the postponement into a positive telling his team that "the delay will give us more time to prepare and get ready for UConn. Whenever we play them this will give us an opportunity to be that much more prepared."

In an article in Tuesday's New York Post, Masella spoke more generally about the program's aims.

"Our goal is to become a national championship caliber program," Masella said. "We're going to do it and we're going to do it the right way."

That means. even as an FCS program, playing FBS schools. And whenever the Huskies and Rams meet, Fordham will have Pete Maetzold, a freshman quarterback under center.

"We know exactly what we're getting into," said Masella. "We want to make it through the first half and still be in position. But for us, there's no downside. Our kids will get a chance to play against the best and we'll see where we are."

It's an ambitious plan, one that will no doubt include some tough stretches against top-quality opponents, but that's sort of the idea. To get Fordham's program to a point where it can make the jump to Division I.
Sounds familiar, doesn't it? And things have worked out pretty well for the Huskies. They made the jump to FBS in 2002, won the Big East a year ago and are fresh off a BCS Bowl appearance.