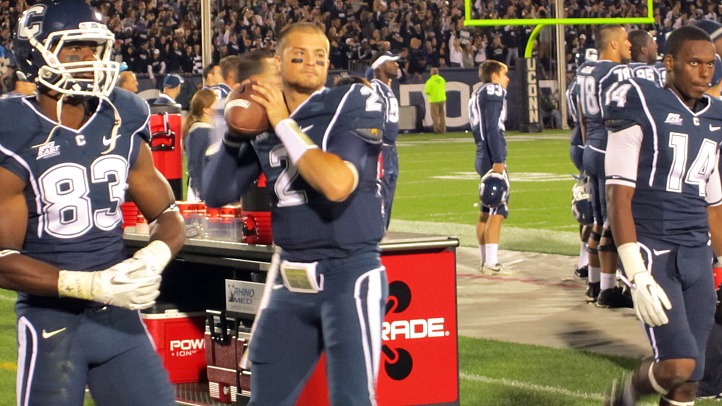 While the UConn football programs stumbles its way through an already-forgettable season, three former Huskies are having success at Fordham, and FCS school.

Quarterback Michael Nebrich, wide receiver Tebucky Jones and offensive coordinator Joe Moorhead are apart of an 8-0 Rams team.

Last Saturday, while the Huskies were putting the finishing touches on their sixth loss of the season -- against no wins -- Nebrich threw for 421 yards and four touchdowns in Fordham's 52-31 victory over Yale.

"One of the reasons we have done so well offensively is we have a good stable of running backs, a solid tight end and three exceptional receivers," Moorhead told the Hartford Courant's John Altavista. "You try to stop one aspect of our offense, or one particular player, we can expose some other aspect of your defense. And what we do changes week-by-week based on what type of system or coverages the opponent may use."

Moorhead was UConn's offensive coordinator in 2010, when the team played in the Fiesta Bowl. He's now in his second season at Fordham, his alma mater.

Jones arrived in Storrs with a football pedigree; his dad played for the Patriots and Saints in the NFL.

Nebrich transferred from UConn in the summer of 2012 and he's fully recovered from an ACL injury he suffered last season.

"I just wanted a shot to play," Nebrich said. "I knew Coach Moorhead was going to give me that opportunity. Things didn't work out for me last year [because of the injury], but once I got back together with Coach, I knew we were going to have a solid team."

As for what-ifs, Nebrich has few.

"The only aspect of UConn that I still wonder about is what would have happened if Coach Edsall had stayed," Nebrich said. "Maybe we would have been doing [at UConn] what we are doing here now.

"I want UConn to do well; I have a lot of friends there. But I am a Fordham Ram now. Other than that, it's not something I think about."