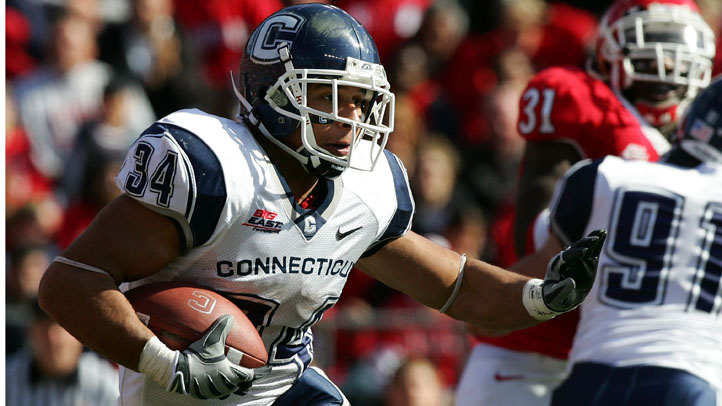 Donald Brown remains the only UConn player to be taken in the first round of the NFL Draft. The Colts selected him 27th overall in 2009, just three years after the organization had drafted Joseph Addai. At the time, it seemed like a peculiar move but then-president Bill Polian had an impeccable track record at assembling a roster so he was given the benefit of the doubt.

Turns out, it was right to question Polian's personnel decisions because after striking first-round goal year after year going back to Peyton Manning, he hit a rough stretch beginning in 2007. Anthony Gonzalez and Tony Ugoh (a second-rounder but Indy gave up a first-round pick to trade up and get him), Brown and Jerry Hughes all raised doubts that the game had passed Polian by and he -- along with just about everybody else in the front office and on the coaching staff -- was relieved of his duties earlier this year.

Now under new coach Chuck Pagano, Brown seems to have finally turned a corner. Through his first three NFL seasons, Brown started just 11 games and never had more than 134 carries in a year. In 2011, he flashed glimpses of potential rushing for 645 yards and averaging 4.5 yards per carry.

Through two weeks of training camp and two preseason games, Pagano has been nothing but laudatory when speaking of Brown -- and not just because of his ability to carry the ball. Details via the Indianapolis Star's Phil Richards:
Pagano on RB Donald Brown. "I watch him step up and protect on 3rd down and hit these big LBs from Steelers and protect his QB." #Colts — Phil Richards (@PhilRichards6) August 21, 2012
Cont.: "From protection standpoint, running the football and catching the football out of the backfield, he's having a great camp," #Colts — Phil Richards (@PhilRichards6) August 21, 2012
Cont.: "and on his way to having a great year." Pagano believes offense is great fit for Brown and has given him a fresh start. #Colts — Phil Richards (@PhilRichards6) August 21, 2012

Sometimes a new scheme can transform a player's career. And maybe that's all Brown needed. Instead of playing in Peyton Manning's offense, Brown is better suited in a scheme that will rely more heavily on the running game -- and perhaps more importantly, his ability to protect the Colts' new franchise quarterback.