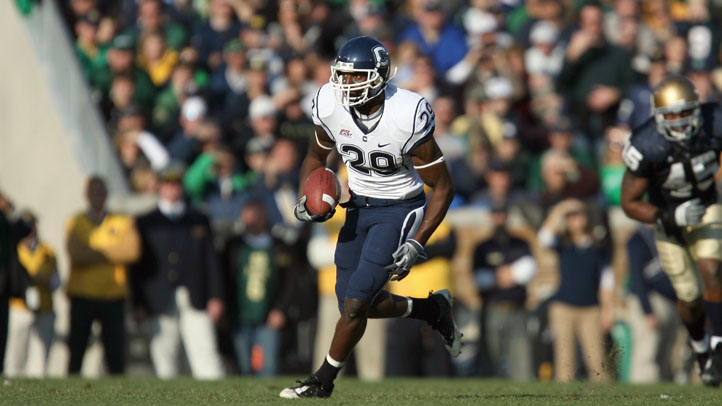 Former UConn wide receiver Marcus Easley was a fourth-round pick of the Buffalo Bills in 2010. He suffered a knee injury during training camp, landed on injured reserve and missed the season. In 2011, the Bills had planned for him to play opposite Stevie Johnson but Easley again ended up on injured reserve, this time with a heart condition.

After nearly two frustrating seasons, there is finally some good news. Details via wgr550.com's Joe Buscaglia:
Head coach Chan Gailey said there is no question that Easley would be cleared to play next season. The wide receiver has been around team facilities recently, so Gailey was asked if Easley would return.

"That's up to him. We're going to give him every opportunity but that's up to him," the head coach said. "Every player gets an opportunity. What they do with that opportunity is totally up to them."
Easley has been attending meetings with the Bills wide receivers and has been at the team facility that past few weeks.

"I'm slowly getting back into things," he said, via the Buffalo News. "I have been doing cardio work and lifting some weights. I've been here pretty much the whole time. I'm actually getting something out of it [the workouts] now. Being in the weight room and getting back to the way things are supposed to be was a relief."

Easley, listed at 6-3, 205 pounds, caught 48 passes for 893 yards and eight touchdowns at UConn during the 2009 season. His next NFL reception will be his first. Here's to hoping that come in Week 1 of the 2012 season.

This summer, before he was diagnosed with the heart condition, Easley spoke about the frustration of missing his rookie season with a knee injury and then not being able to practice due to the summer-long lockout.

"As crazy as it sounds, nothing ever went as planned for me pretty much my whole career," he said. "It's yet just another obstacle for me to overcome."