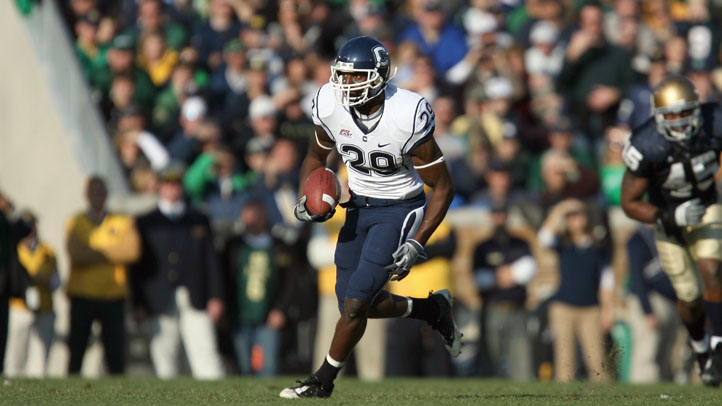 While the Huskies prepare for Iowa State after a disheartening loss to Vanderbilt, former UConn wide receiver Marcus Easley has issues much bigger than football. Now with the Buffalo Bills, Easley was placed on season-ending injured reserve with a heart ailment, a source told the Buffalo News Tuesday.

"It's not an injury and we think it will resolve itself shortly," Bills head coach Chan Gailey said. Although the News' Rodney McKissic writes that, "It is unclear about the specifics of Easley's condition or whether it's career threatening. Easley was added to the Bills' injury report and listed as questionable last Friday with what coach Chan Gailey described as an illness. Easley left practice shortly after individual drills."

McKissic also writes that 2011 was going to be a big year for Easley.

"This is the latest setback for Easley, a player the Bills believed would play a pivotal role this season as a complement to Stevie Johnson. He was also placed on injured reserve last season after suffering a knee injury during training camp. The Bills put an emphasis on featuring tall receivers and the 6-foot-2, 221-pound Easley flashed potential during an abbreviated training camp."

The Hartford Courant caught up with Easley, the Bills' fourth-round pick in the 2010 NFL Draft, over the summer and he sounded understandably disappointed with how his rookie season turned out.

"It's definitely been frustrating, especially having to sit out the whole season," Easley said. "I got no game action, in preseason or regular season. That alone, just being away from the game that long, I was eager for the off-season workouts, eager to be able to come and perform in [organized team activities].

"And this year, there weren't any, so it's been a long time coming. I'm so eager to get on the field, but until they get this lockout resolved it's not possible."

Easley, listed at 6-3, 205 pounds, caught 48 passes for 893 yards and eight touchdowns at UConn during the 2009 season and hopefully he'll eventually get a chance to show his skills in the NFL. For now, though, all he can do is get healthy. And something he said this summer seems more applicable than ever now.

"As crazy as it sounds, nothing ever went as planned for me pretty much my whole career. It's yet just another obstacle for me to overcome."