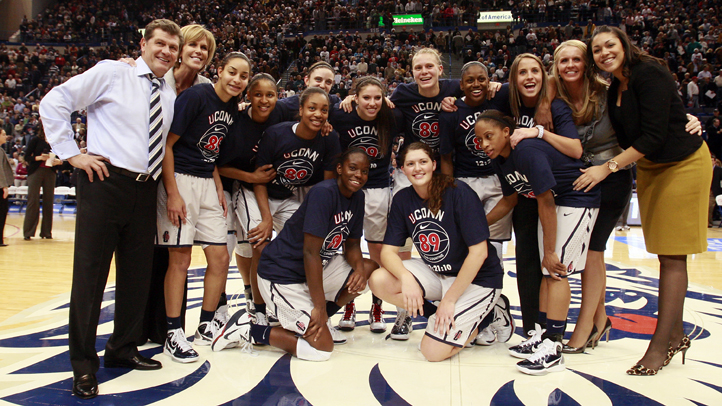 Win consistently and for long stretches, and people will expect it. Get really good at it -- to the point of dominating opponents year after year -- and those same people start to think that winning is easy and that anybody could do it.

This is Geno Auriemma's curse. As curses go, it's not bad, but it's one of the unintended consequences of unmitigated success. At some point after the first few championships, folks just assume it's the players. "Anybody could coach that group," the thinking goes. (Never mind that you have to recruit them, too.)

In case there was any doubt, Auriemma is one of the best coaches on the planet, any gender, any level. Via the Hartford Courant:

"You know when you are watching an expertly coached team," former NBA coach Jeff Van Gundy said in December. "Everyone I've ever talked to absolutely knows that [Auriemma] is one of the best in the profession, and I'm not just talking about women's basketball. That guy knows how to get a team to maximize its potential."

Look no further than what Auriemma has accomplished this season. He lost two seniors to graduation from the 2010 championship team, then lost sophomore guard Caroline Doty to injury, and headed into 2010-2011 with upperclassmen Maya Moore and Lorin Dixon, junior Tiffany Hayes, sophomores Kelly Faris and Heather Buck … and five freshmen, two of whom would end up starting.
"The team really didn't reflect my personality very much," Auriemma said Wednesday. "I don't have a lot in common with the players on this team, to be honest with you. We get along great and I love every one of them and I enjoy spending time with them. But they are mostly very quiet kids, very reserved in so many ways. It's pretty low-key. … Maybe that's why we haven't been affected by a lot of the stuff that happened to them this season; the streak, the thin bench, the unbelievably difficult schedule, you name it," he said.
But it's not like Auriemma doesn't know what he's doing. Former UConn great Rebecca Lobo says that "He understands better than most people what makes women tick."

And it sounds like the relationship goes both ways. "They calm me down and I get riled up every once in a while. It's a good combination."

For a glimpse of how things used to be for the UConn women's team, just listen to Central Connecticut men's basketball coach Howie Dickenman, one of the first people to befriend Auriemma when he arrived in Storrs in 1985. Via the Connecticut Post:
"I guess I was the first person he really got to know. I just befriended him and we hit it off," Dickenman said. "I went to his games in those first, early years and believe me, when you talk about programs that were developed, his was developed from less than scratch. I would estimate the crowds were around 40 and I would look for people to talk to so the game would pass quicker. No one cared or covered them."
Now we're at the point where Auriemma complains when there's an empty seat at Gampel Pavilion. Have the Huskies been lucky during the last quarter-century? Sure. But there's no disputing that Auriemma has made the most of UConn's luck and then some. Seven championships aren't a fluke. You'd have to be a pretty good coach to pull that off.