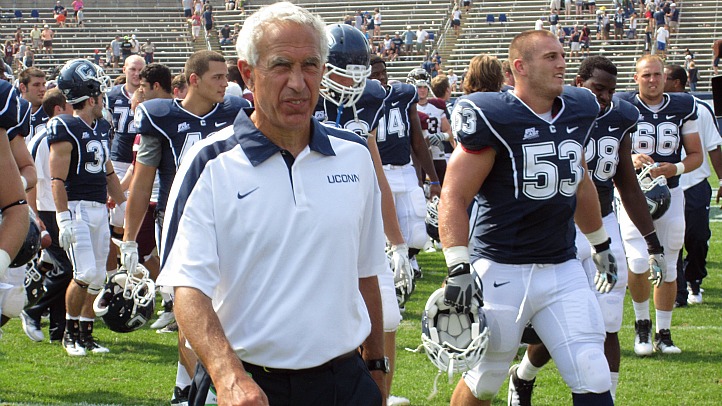 Last week, UConn had front-row seats as Western Michigan quarterback Alex Carder threw for over 400 yards and five touchdowns. It's almost unimaginable, but the Huskies' face a much stiffer test Saturday against the West Virginia Mountaineers, one of the best programs in the country.

WVU has quarterback Geno Smith, a dynamic player, but they've also rediscovered their running game. Which means the UConn defense's job somehow got more difficult.

"It's huge to have a running game going," Smith said, according to the Hartford Courant's Desmond Conner. "The offense is never about me. The thing is, to keep [defensive] coordinators on their toes, it's key for us to have that running game. We're going to try to keep building from where we've been building and try to be as good as we can."

Smith would be referring to freshman Dustin Garrison who ran for 291 yards on 32 carries in a 55-10 win over Bowling Green last week. The Mountaineers had struggled to find consistency in their ground game, but not because they didn't have depth at the position. Just the opposite; they had too many good players vying for carries. As a coach, these are the problems you want to have.

"It's hard when you have so many guys, to be able to get a guy in a rhythm," WVU coach Dana Holgorsen said. "But there's nothing you can do about that. You've just got to tell those guys to take advantage of the opportunities that they had. The last six quarters, Dustin's been able to get in there and get on a roll."

Smith, meanwhile, can light up a defense with his arm, which is what he did against No. 2 LSU earlier this year when he was 38 of 65 for 463 yards in a 47-21 loss. The thing is, the Mountaineers offense -- and Smith -- have just scratched the surface with first-year coach and offensive mastermind Holgorsen.

"I'm comfortable with everything that's been going on with this offense," Smith said. "We're nowhere near where we want to be. We've got a lot of things to work on. We've got to get better in a lot of areas. We need to keep pressing and continue to play and not let anything distract us."

That's bad news for the Huskies' defense, which was exposed against an Western Michigan offense that isn't nearly as explosive as the WVU one they will face Saturday. This isn't lost on coach Paul Pasqualoni.

"We didn't play well enough pass defense last week," Pasqualoni said earlier this week. "So we will try as best we can to tighten up coverage this week, and hopefully do a better job rushing the passer and putting a little more pressure. Alex [Carder] got the ball off very quick, Geno is an exceptional passer, his receivers are excellent. They have a heck of a crew of receivers with vertical speed and athleticism. We're going to have to vary the coverages we play and be able to change the look and hopefully be able to get some pressure on the quarterback."

Vegas pegs the Huskies as 20.5 underdogs, and if they're going to have a chance in Morgantown, it's going to come down to the defense finding the form that made it one of the Big East's best units. It doesn't help that cornerback Blidi Wreh-Wilson is still sidelined with a knee injury, but this is football. Injuries are a part of the game; the good teams overcome them, the bad ones don't. Which side of the ledger do we place the Huskies? It's too early to say, but we'll certainly know more after Saturday's game.