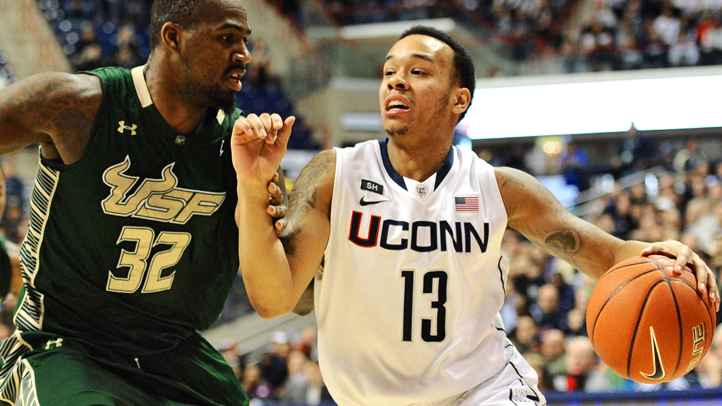 In a season that was all about overcoming long odds, the basketball gods have finally proved too much for UConn. Banned from the postseason because of low APRs, the Huskies have treated each game like one big tournament and the results, for the most part, have exceeded expectations.

No one expected 20 wins, yet the team needs to go 1-1 its final two games to reach that milestone. Much of the credit goes to first-year coach Kevin Ollie, whose task got even tougher when junior Niels Giffey fractured his right index finger in last Saturday's loss to Cincinnati. Giffey's season is over.

"We're looking at what the doctor says, but I don't see (Giffey returning) with a fracture," Ollie said Monday night via TheDay.com's Gavin Keefe. "It's pretty tough, especially on his shooting hand."

It gets worse: team leader and point guard Shabazz Napier, who injured his right foot against Georgetown last week and was in a walking boot on the bench when the Huskies played Cincy, is a game-time decision for Wednesday's matchup with USF.

"(The foot is) still tender," Ollie said, according to the New Haven Register's David Borges. We're just going to keep doing what we're doing. I have full confidence in James Doran and our athletic training staff that they're going to get Shabazz ready to play. If he can't, we're going to go into the off-season getting him back ready, and we'll see what happens going forward."

So will Napier play?

"It's ultimately up to him, and (athletic trainer) James Doran," Ollie continued. "Whoever I got, I'm gonna battle with those guys. Shabazz was great on the bench at Cincinnati. He was great, encouraging the kids. If he can't be out there, so be it. But I know the kid is tough, and he wants to be out there. That's the beauty of it."

If Napier can't go, transfer R.J. Evans will make his second straight start.