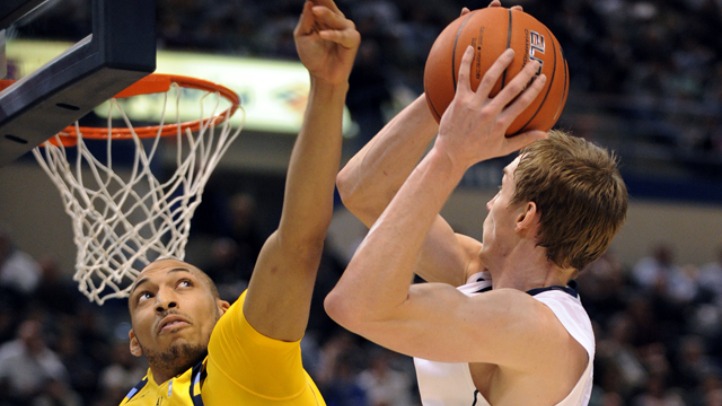 UConn senior Niels Giffey started 10 games on the 2010-11 national championship team, a fact that's easy to forget after he became something of a forgotten man in recent years (not helping: an injury that sidelined him for the final few weeks of last season). But Giffey will return to Storrs with an impressive summer of international basketball under his belt, which will only make the Huskies better once the season begins.

On Wednesday, Giffey scored 14 points and grabbed five rebounds as the German National Team defeated France, 80-74, in the team's first game of EuroBasket 2013, the European Championships. More details via UConnHuskies.com:
Giffey hit all six of his shots from the floor, including one three-pointer, and completed his perfect shooting night with a free throw as the Germans posted a win in the first of five games they will play over the next week in Group A of the Championships. Of the six teams in Group A, the teams with the top three records will advance to the next round.

Giffey, who started and played 31 minutes, scored 12 of his points in the first half as Germany jumped out to leads of 27-14 after one quarter and 43-39 at halftime. The Germans held a narrow 57-56 lead after three quarters, but France, led by Tony Parker of the NBA's San Antonio Spurs (18 points), took over the lead, 72-69 with 2:14 remaining.
Giffey has been a reliable perimeter player for the Huskies, something that should continue with Shabazz Napier and Ryan Boatright getting him the ball. But with sophomore Omar Calhoun manning the role of long-range sharpshooter, Giffey will almost certainly come off the bench. Given Giffey's experience, these are good problems to have if you're coach Kevin Ollie.