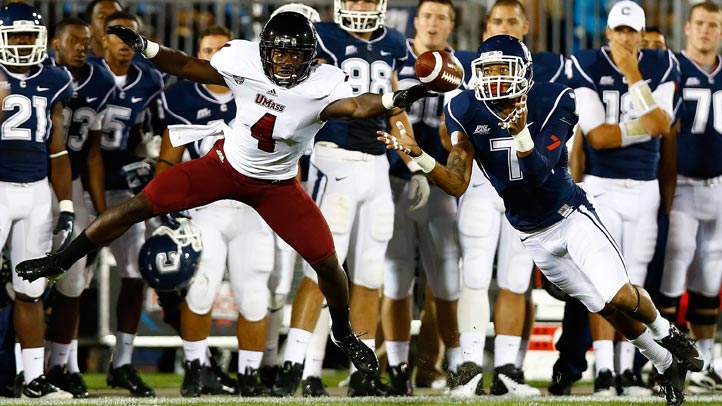 Collectively, the Huskies may not have had much success on the field, but individually, the football program has been well represented in the NFL. Most recently, former defensive end Kendall Reyes was a second-round pick of the Chargers last April, and in two months, a handful of other UConn players can expect to hear their names called. The process began four weeks ago at the Senior Bowl and continues in the coming days a the 2013 NFL Combine.

Trevardo Williams, Blidi Wreh-Wilson, Dwayne Gratz and Sio Moore are in attendance with one goal in mind: impress the scouts, coaches and front-office types at Lucas Oil Stadium in the hopes that it translates into some good news on draft day.

Moore, the senior linebacker who was arguably the Huskies' most consistent player, spoke to the Hartford Courant's Desmond Conner about his college career and looking forward to his professional one.

"Playing at UConn, everybody always counted us out," Moore told Conner. "Playing at UConn you learn how to play with a chip on your shoulder, and you learn how to deal with people doubting you and putting you down. For me, I use that and thrive by it really, trying to show the type of talent our school has and the type of guys that we have. A lot of people have us under the radar; we have some damn good players. …

"Beyond being a football player I really want to prove to all these teams that I'm a good person, good character guy, passionate player, a leader, a guy who wants to work to be great," Moore continued. "I want to be coached hard and I want to do the extra things that will set me apart because everybody there is an athlete. Everybody knows football. Everybody can do something special. ... "I really want to show people that I'm a guy who can influence people around me in a positive way to do better and be great."

Gratz, meanwhile, spent much of his time in Storrs playing in Wreh-Wilson's shadow. But we think Gratz had a better senior season and with a good showing in Indianapolis this week, he could boost his draft stock.

"Coming up (in Piscataway, N.J.) I never thought I would have the opportunity to go to a university and make another jump possibly to the NFL. I'm at this point now," Gratz told Conner. "I'm trying to better my situation and better my family situation."

Gratz's agent, Jason Bernstein, added: "One of the trainers at the facility said Dwayne is one of the hardest workers he had the opportunity to train, that he'll take six or seven extra reps after everyone else is finished to make sure it's perfect. In terms of the numbers, I think if he posts the numbers at the combine he's capable of he's going to exceed expectations. Some of his numbers are off the charts. He'll probably test in the top one or two at the corner position in a number of the drills. That's how well he's been doing out there. The expectations are pretty high at this point."

If Bernstein's right, Gratz will be in great position in the weeks ahead of the draft.