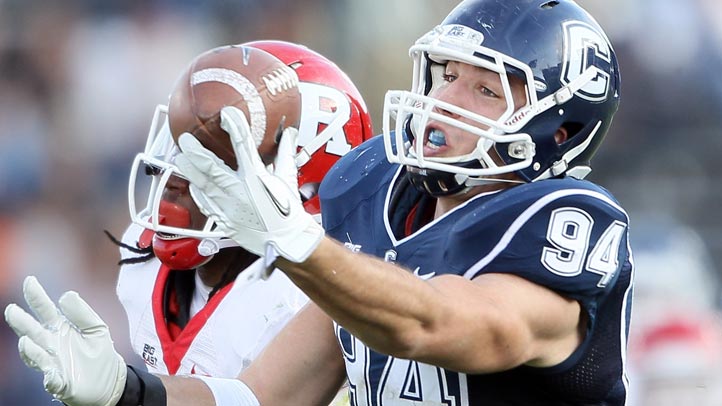 Tight end Ryan Griffin has been a pleasant surprise this season. He's been one of the few consistent players in an offense that has yet to find its rhythm in coach Paul Pasqualoni's nearly two years on the job. He was named to the Mackey Watch list before the season as one of the nation's best tight ends and through seven games he's lived up to the hype.

Griffin will never be mistaken for Antonio Gates or Jimmy Graham -- purely pass-catching tight ends who are as fast as they are strong -- but he's a throwback to what the position used to be: a solid blocker, a mismatch problem for slower linebackers and smaller safeties. More in the vein of Heath Miller. And while it's not a particularly sexy style of play, coaches and teammates love it.

But it hasn't always been that way. Griffin has grown into the player he is and he credits those around him for making him better.

"Sometimes I'll sit down and watch games from four years ago, like the Notre Dame game, and I look like a different tight end now," Griffin said according to the Hartford Courant's Desmond Conner. "And that's a credit to the coaches. You know, I just try to be coachable. They know what they're doing and it's working out for me; have to give it to the coaches. (Offensive coordinator and tight ends coach George) DeLeone helped me a lot. He's worked with some good coaches and some good players. Coach Pasqualoni coached Jason Witten (with the Dallas Cowboys) so you have to listen to what they're telling you -- and I've learned from my mistakes.

"To be honest with you, my freshman year, I wasn't a very good player when I look at it now. Technically, I wasn't very sound; my stance was all messed up, a bunch of little things. In this game, you always try to get better every day and that's what I tried to do."

Griffin is third on the team with 12 receptions for 219 yards and three scores (including a 42-yarder). And like every player who wants to be great, he's continually looking for ways to improve.

"I think when you understand the game, understand what you're trying to do as an offense and understand the defensive schemes, you can play faster," he said via Conner. "Things happen slower so I think that's what really clicked with me, just understanding what's going on on the field and everyone's job. You take all that into account and you can take advantage of some things."

Over the summer, Griffin was identified as one of the Huskies' top NFL prospects. That doesn't look to change anytime soon.