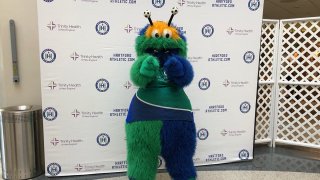 The Hartford Athletic soccer club now has a mascot and his name is Dillon.
"Dillon is the club's wacky, fluffy, and friendly take on the Glawackus, an animal of legend in Connecticut, with the only sighting on record occurring in the 1930s," according to a news release from Hartford Athletic.
He is green and blue, he has soccer ball antennas and loves pizza.
"Dillon is a very special character and we are thrilled to introduce him as the newest member of our Green and Blue family," Hartford Athletic Chairman Bruce Mandell said in a statement. "Adding a mascot to our fan engagement program is done with our youngest fans and supporters in mind. Dillon will enhance their experience at our matches and in the community."
Hartford Athletic reached out to fans in January for suggestions for a name and Dillon was the favorite. His name pays homage to Dillon Stadium, the former name of Hartford Athletic's home stadium.
Hartford Athletic said they consulted with Raymond Entertainment Group, creators of Gritty of the Philadelphia Flyers, Burnie of the Miami Heat, Thunderbug of the Tampa Bay Lightning and more, to help create the club's new character.
Dillon will be at every Hartford Athletic match at Trinity Health Stadium this season.
Fans can visit hartfordathletic.com/dillon to learn more about our new mascot or to book him for an appearance at an upcoming event