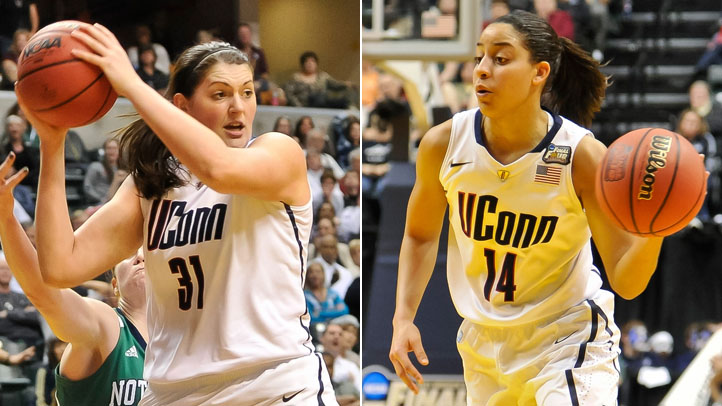 Two current UConn players, another that will be a freshman in the fall, a 2012 commitment and a 2013 recruit all played important roles in the US Women's U-19 Team's 85-63 opening round victory over Japan at the FIBA World Championship in Puerto Montt, Chile.

According to USABasketball.com, Bria Hartley was 3-of-4 from 3-point land to pace the U.S. with 18 points, Breanna Stewart posted a double-double of 13 points and 13 rebounds, Stefanie Dolson scored 13 points on 6-of-8 shooting from the field, Diamond DeShields and Hartley had four assists apiece, and Kaleena Mosqueda-Lewis had four rebounds and three assists.
(Hartley and Dolson are rising sophomores and will be critical to UConn's success in 2011-12, Mosqueda-Lewis comes to Storrs as one of the best high school basketball players in the country, Stewart will join the Huskies next summer, and DeShields is already on Geno Auriemma's radar.)
The Americans are three-time defending champions, and much like Auriemma's Huskies, success is as much about quality depth up as it is about chemistry. Before the tournament, U.S. coach Jen Rizzotti talked about her biggest challenge: "[O]verall team chemistry. ... [T]here is such little separation between one and 12, it's hard for me to find a rotation that I'm really comfortable with."

So far, so good on that front.
After the game, Hartley echoed the sentiments of her coach. "Our team has tremendous depth," she said. "Everyone can come in and contribute a tremendous amount throughout the entire game. As long as we come together and keep working together, we should all be fine."

Still, Rizzotti was impressed by Japan's effort.

"(They were) excellent. They started the game with a lot of intensity," she said. "They're a hard match-up for us. We do have the size, but some of our big guys weren't able to match up with their quickness on the perimeter. So, we had to find that balance between wanting to score inside, but also wanting to not give up points. When they're scoring three for our every two, it doesn't really add up. So we decided to go with the smaller lineup for awhile and try to really focus on our defense. When we came back with our bigger players, they were pretty worn down."

Dolson, who will anchor the frontcourt for the Huskies in the fall, sounded equally as impressed with the Japanese.

"I know I've never seen a team like that, where they're all about 5'7" or shorter," said the 6'5" Dolson. "It was extremely difficult for me, personally, and I know for a few of the girls to deal with their quickness and how fast they move the ball on offense. They would just pass it, pass it, pass it, kick it out, it's really hard to keep up with it. I think we did a fairly good job in the second half of learning from our mistakes in the first half and improving on them."

The United States faces Russia on Friday and closes out the first round against Argentina on Saturday.