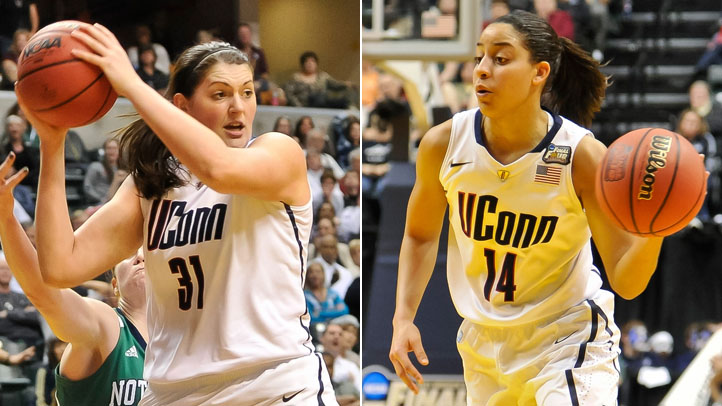 Rising sophomores Stefanie Dolson and Bria Hartley, who both played instrumental roles in the Huskies' Final Four run last season, have been named to the USA Under-19 team. The headline is about two rising sophomores -- and rightly so -- but there's even more good news for the UConn women's basketball team. Incoming freshman Kaleena Mosqueda-Lewis and 2012 recruit Moriah Jefferson also made the final roster.

We wrote yesterday about Jefferson, who had twice been cut from national team trials in as many years. Despite the setbacks, Jefferson welcomed the challenge that competing against some of the best players in the country presented. "It fuels me knowing I didn't make [the team the last two times]. When you come out for something like this, you want to make it. Honestly, I give my best, 110 percent, every time I get on the court. Being cut hasn't really changed anything about me, it just makes me go a little harder."

And now, two of the best high school players in their respective classes will join two future college teammates on the national team. That's not the only UConn connection, however. Jen Rizzotti, a former Huskies point guard and the current Hartford coach, will coach the squad.

"I think this team is great, I'm really excited," Rizzotti said in a statement. "I know it wasn't easy to pick, because we had so many talented players here. We have a really nice mix of experienced players, a few college players, and then some new guys who I think will be really hungry to make this USA Basketball team. I think it's really exciting and I'm really looking forward to working with them next week."

As for the Huskies, there's potentially more good news. In addition to Mosqueda-Lewis and Jefferson, the No. 1 player in the class of 2013 -- and a UConn target -- Diamond DeShields, also made the team.

For most programs, losing a player like Maya Moore would be problematic. It's not easy to replace the production and leadership the nation's best player provides. We could see that play out firsthand next season as the men cope with life after Kemba. But coach Geno Auriemma and his staff, year after year, land prized recruits, plug them in, and the program never misses a beat. Put differently: when a loss in the Final Four is seen as disappointing, you have created some pretty lofty expectations. Expectations, by the way, the women usually meet.