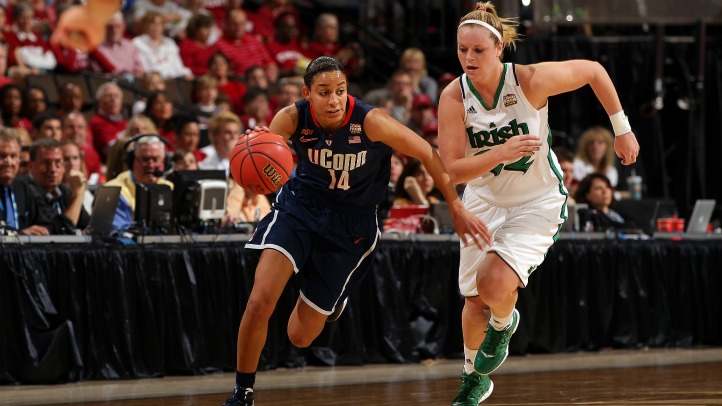 It's one of the rare things in college sports: the Huskies women's basketball team is never rebuilding. Part of that is a testament to coach Geno Auriemma's ability to recruit the best players in the country but it's also a function of those players coming to Storrs and improving each year. There are numerous examples of former All-Americans that didn't pan out at the collegiate level for one reason or another. This happens at UConn, too, it's rare.

Either way, the 2012-13 team is a relatively young one. Starters Kelly Faris and Caroline Doty are the only seniors, with junior guard Bria Hartley arguably the club's most important member. A role she seems well prepared for.

"Bria looks great," Faris said according to SNY.com's Carl Adamec. "I remember during the summer telling Coach Auriemma that she's one that has really stood out. You can tell. As good as she was last year to now is just amazing. It's amazing how much she has improved."

Hartley said last month that her stint this summer with the U.S. team at FIBA 3x3 Women's World Championship helped hone her game.

"I wanted most to work on my ability to finish at the rim, with contact, and I think I did well in that area," she told the Hartford Courant's John Altavilla at the time. "This was a very physical tournament and the referees let a lot of things go. "Overall, I think I had a pretty good shooting tournament. There was one day I couldn't hit a thing, another when I couldn't miss. It happens."

Despite earning All-American honors as a sophomore, Hartley isn't complacent heading into her final two years.

"A lot of it, for me, this summer is mental," Hartley said. "I want to come out here thinking the game, seeing things before they happen, seeing plays before they develop. I need to be a smarter player and one of the things Coach Auriemma preaches is to be a smart player. I'm a pretty stubborn person in general so I have to pay attention to little details and make sure I'm always focused and paying attention and always listening to what the coaches want."

Hartley said that she wants to be a better passer and smarter with her shot selection before adding "I want to be a better leader, be more vocal, and make sure that we're all competing at a high level whether it's working out or playing pick-up games. We're going to have a lot of talent so we have to be sure everyone knows the way that things are done here, and play the way Connecticut basketball is supposed to be played."

While college sports, in general, is about dealing with transition as players come into and leave the program, the Huskies should be stacked again this season. Kaleena Mosqueda-Lewis will be a sophomore and there's also the arrival of freshman center Breanna Stewart who Auriemma has already referred to as having the potential to be the best player to ever come through UConn. She'll be joined by incoming freshmen and high school All Americans Moriah Jefferson and Morgan Tuck, which will make the Huskies' bench better than most program's starting five.