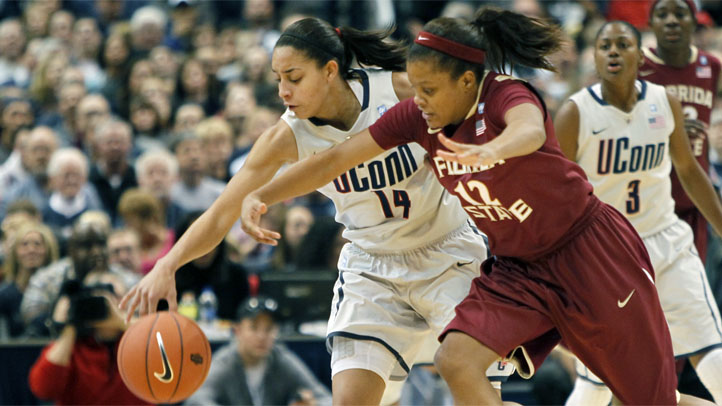 Junior guard and preseason All-American Bria Hartley is still nursing an ankle injury that will keep her sidelined for at least another week but that's arguably the team's biggest issue heading into the season.

These are good problems to have for Geno Auriemma's squad. Uncharacteristically, Auriemma admitted as much. A year ago, he couldn't downplay his team enough in a post-Maya Moore world. Now he sounds like he just stumbled across a winning lottery ticket.

"When you've done what we've done, how do you temper the expectations?" he said. "You can't even try. It's silly. At the same time, what are we going to do that hasn't been done?"

It helps explain UConn's top spot atop the Big East preseason poll, but let's be honest: that's an annual occurrence. But this time could be different, which is saying a lot for a team that has seven national titles under Auriemma.

The Hartford Courant's John Altavilla breaks down the particulars into four categories: depth, freshmen, versatility and conditioning.

Depth can't be overstated and UConn's second team would probably be good enough to make the NCAA Tournament. Assuming a starting lineup of Hartley, Stefanie Dolson, Kaleena Mosqueda-Lewis, Kelly Faris and freshman Breanna Stewart, that means Caroline Doty, Brianna Banks, Moriah Jefferson, Morgan Tuck and Kiah Stokes are all coming off the bench (of the second five, all are freshmen or sophomores except Doty, who's a senior).

As we've mentioned previously, Auriemma hasn't hidden his feelings about what Stewart could mean for the program.

"I just know Breanna is going to be really good," he said. "How good, I don't know. But she is going to be really good. If she plays like I believe she is capable, I won't say I am surprised. She'll act like a freshman at times, just like Kaleena did. But at times she'll play like she's been here two or three years. But I'm not wont to build teams around just one player, to have high expectations for one player. It's more important to feel like that about your team."

Auriemma isn't alone. DePaul coach Doug Bruno said this about Stewart and freshman teammate Tuck (via Altavilla): "Hall of Famers." He compared Tuck to Nykesha Sales and Jamelle Elliott while Auriemma said Stewart reminded him of George Gervin or Kevin Durant.