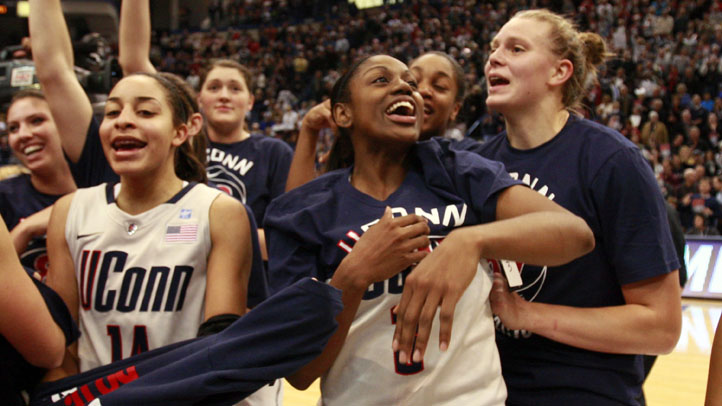 The UConn women's team experienced their share of growing pains this season but everything came together in the Big East Tournament. It culminated in a win over rival Notre Dame in the finals. (Whether Geno Auriemma acknowledges it or not, the Irish are now the Huskies' rival.) There's still work to do, of course: next up, the NCAA Tournament.

But while we wait for the brackets to be announced, we'll take a moment to recognize an individual accomplishment. Tiffany Hayes, the only senior on the roster, is one of 15 finalists for the Wooden Award, given annually to the nation's best player. Former UConn great Maya Moore won the award twice in her distinguished career.

The other 14 finalists include: Skyler Diggins, Notre Dame; Elena Delle Donne, Delaware; Brittney Griner, Baylor; Hayes; Shenise Johnson, Miami; A'dia Mathies, Kentucky; Nnemkadi Ogwumike, Stanford; Chiney Ogwumike, Stanford; Samantha Prahalis, Ohio State; Odyssey Sims, Baylor; Shekinna Stricklen, Tennessee; Alyssa Thomas, Maryland; Elizabeth Williams, Duke; Riquna Williams, Miami; Julie Wojta, Wisconsin-Green Bay.

The winner will be announced on April 6, three days after the national championship game in Denver.

On Monday, March 12, the NCAA selection committee will announce the brackets and the Huskies will likely end up with one of the four top seeds. And while it doesn't appear to have any bearing on UConn's fate, the NCAA dodge a bullet when Marist beat Fairfield in the MAAC Championship game Monday.
According to ESPN bracketologist Charlie Creme, the selection committee may not have been able to keep the Huskies in in the Bridgeport regional had Fairfield earned the automatic qualifying bid that came with winning their conference (via the Hartford Courant's John Altavilla):

"At one point during the season, I did a bracket and Fairfield appeared to be the choice [to win the MAAC] title," Creme said Wednesday. "Had they made the tournament by winning the MAAC, they would have been in the 14 or 15 range. They were, at time, like 57 on the board [of 64] and by rule they could have been dropped on line to a possible 16.

"Honestly, that's probably what would have happened. There would have had to been some manipulation of the 'S' curve, but I don't think the committee is very comfortable doing that."

As Altavilla noted, Fairfield, by virtue of being the host of the Bridgeport regional, would have to be assigned there. The problem: many of the tickets sold for the venue were based on the assumption that the Huskies would be there.

"Problem is," Altavilla pointed out, "Fairfield [would've likely been] a natural 16 seed, which would have made it a certain first-round match for UConn. And there was obviously no way the NCAA would have considered making UConn a No. 2 seed solely to accommodate the placement of the Stags."

One solution, via Creme: "It may have been a situation where Connecticut would have been moved out [of Bridgeport]. Frankly, I believe there are probably some people on the committee who are happy they don't have to answer that question."