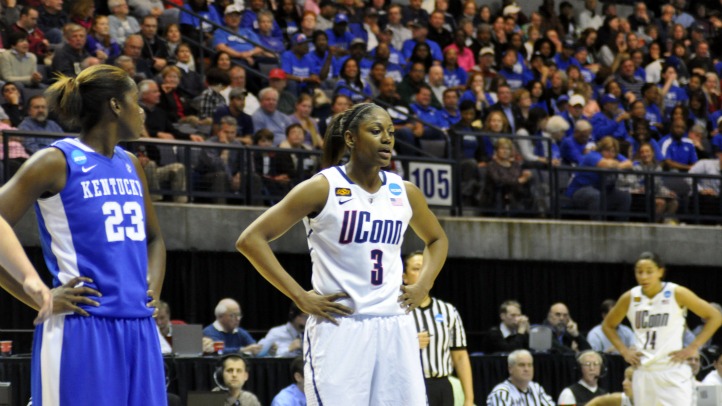 Throughout Tuesday night's telecast of the the Kentucky-UConn game, ESPN color commentator Doris Burke spoke about coach Geno Auriemma and just how upset he had been with senior guard Tiffany Hayes in the days leading up to their Elite Eight matchup with the Wildcats. Of course, by the time it was over, Hayes had scored 22 points, 8 rebounds, 3 steals and proved herself to be one of the toughest people on the court, and that includes her coach.

After the Huskies won 80-65, Auriemma spoke frankly about Hayes.

"I was really upset with Tiffany and Caroline Doty at [Monday's] practice," he said according to the Hartford Courant's Jeff Jacobs. "I felt like they were a little too nonchalant, like the game was already won. I made a point to tell them that either you guys play great or you'll have to leave it up to the freshmen and sophomores. I told them I don't think when you guys were freshmen and sophomores that anybody left it up to you."

"Tiffany has had a lot of great moments and memorable games. Tonight was a little different. I'm sure she has [greater games], I just don't know it has been in this moment and at this time when we really needed her."

As we wrote in Tuesday's game recap, a recurring storyline among the local media is that, in big moments, Hayes is more shrinking violent than team leader. Jacobs addressed the perception in his column, too.

"The Bigger The Game the smaller the Tiffany," he wrote. "Those were the whispers. They weren't entirely fair, yet they weren't entirely unmerited. Her worst games arrived in the defeats at Stanford to end the NCAA-record winning streak and against Notre Dame to end last season in Final Four disappointment."

Now Hayes is the lone senior on a team that, Auriemma has admitted on various occasions in recent months, doesn't have a clear-cut go-to playmaker.

"They've worked really, really hard," he said after Tuesday's win. "They've fought all season along against a lot of different things we've thrown at them. I'm proud of them because there wasn't a Maya Moore or Tina Charles or Renee Montgomery to bail them out, and they found it within themselves and I'm really, really proud of this team."

As for Hayes, who will make the fourth Final Four appearance of her career, she's taking it all in stride.

"I am a senior and I am supposed to be playing like this all of the time," she said. "For me to do it in this game, it means a lot more. I am glad that my teammates were there to help. We all did our part, and like I said, I am just glad to be back in the Final Four."

And if her next two games are anything like her last, the Huskies could be looking at national title No. 8 in a week's time.