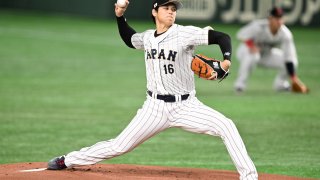 Shohei Ohtani is up to his usual Shohei Ohtani self in the 2023 World Baseball Classic.
The two-way superstar has led Japan to a perfect 5-0 record and a spot in the semifinals. And just like he does with the Los Angeles Angels, Ohtani has produced some truly breathtaking moments.
His first came at the dish during pool play when he uncorked a three-run home run in the first inning against Australia. The towering 448-foot shot to right field sent the Tokyo Dome into an absolute frenzy.
Making the moment even cooler, the fan who caught the home run ball allowed it to be passed around so others could take a photo with it.
Ohtani then turned heads on the mound in the quarterfinals by striking out a Team Italy batter with a 102-mph heater.
That pitch was faster than any Ohtani has ever thrown in Major League Baseball. A 101.4-mph fastball against the Houston Astros in September 2022 was the hardest-thrown pitch of Ohtani's big league career.
In addition to hitting a 448-foot home run and throwing a 102-mph pitch, Ohtani is also simply dominating overall in the WBC. He's hitting 438/.625/.813 with seven runs and eight RBIs while sporting a 2.38 ERA with 10 strikeouts.
Simply unbelievable.