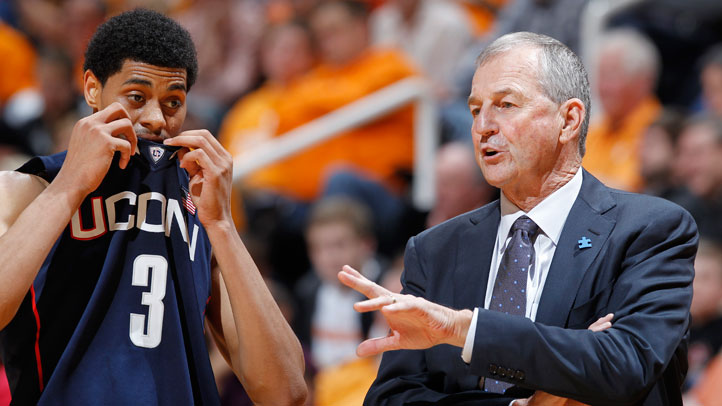 The UConn men's basketball team has several concerns heading into next season: replacing the five players that left in the spring, the uncertainty surrounding Jim Calhoun's future, and recruiting in both the short and long term. Then there are the recently released APR scores that have the Huskies comfortably above the minimum requirement but still ineligible for the 2013 postseason because of substandard scores from 2007-2010.

Still, SNY analyst Tim Welsh told the New York Times Wednesday that he didn't think the sanctions would affect recruiting.

"These kids work hard and won't have that opportunity that every other team has had in the past, and none of it is their fault," he said.

ESPN.com's Recruiting Nation wrote this week that, based on whether Calhoun decides to return to the bench, the program could be in a period of transition. And that will almost certainly affect recruiting. But Calhoun has made a career out of winning the recruiting battles in New England, dating back to his days as the Northeastern head coach.
And with looming sanctions, he may have to return to that well to help rebuild a program decimated by departures and NCAA penalties. After all, the 2010-11 championship team included Massachusetts players Alex Oriakhi, Shabazz Napier and Jamal Coombs-McDaniels, and Connecticut native Tyler Olander. And last summer, Calhoun landed the nation's best high school player, Andre Drummond, also from Connecticut.

Details on upcoming recruiting strategies via ESPN:
The 2013 class isn't an especially deep one in New England, but ESPN 100 SG Wayne Selden's (Boston/Tilton) reclassification gives the Huskies a prime target who could very well be receptive to their interest. Plus, ESPN 100 SG Xavier Rathan-Mayes (Scarborough, Ontario/Huntington Prep) is a Canada native currently playing in West Virginia but has family ties to the state of Connecticut and even played his freshman season at nearby Cheshire Academy.

The 2014 and 2015 classes have far better depth. UConn has worked hard to get in early with ESPN 60 power forwards Noah Vonleh (Haverhill, Mass./New Hampton) and Chris McCullough (New York/Salisbury School), two of the top national prospects in the rising junior class, while also extending recent offers to ESPN 60 shooting guard Jared Terrell (Weymouth, Mass./New Hampton) and ESPN 25 big man Jarred Reuter (Rochester, Mass./Tabor Academy).
For now, though, UConn's future starts in July, when Calhoun typically leads the recruiting charge for the following year's class.

"For Connecticut to maximize July, it will require a recruiting plan and role definition," ESPN recruiting analyst Dave Telep said this week. "Will Calhoun be front and center in July working key targets, or will it be a heavier dose of assistants rotating on and off the road? Does he spend most of the month with assistant Kevin Ollie at his side, possibly warming up recruits to the notion that Ollie could be the next coach?"

Telep added: "Next month might not be the most significant July in Calhoun's career, but it might provide a window into which direction the program is headed. At the very least, it will reveal which areas Calhoun and his staff intend on addressing."