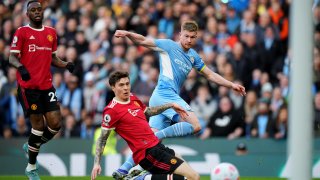 The English Premier League action resumed this weekend with Matchweek 31 after a brief international break.
There are plenty of matches this week – 11 in all – to help fans get back into the swing of things. Manchester City still finds themselves atop the table after a 2-0 win over Burnley, while Liverpool kept the gap at one point after beating Watford with the same scoreline.
After goals and drama over the weekend, two games remain on Monday and Wednesday. Here's all you need to know about the rest of Matchweek 31:
When is Premier League Matchweek 31?
Matchweek 31 will kick off Saturday, April 2 and conclude on Wednesday, April 6.
Which team is at the top of the Premier League Table?
Manchester City sits atop the table with a one-point lead over Liverpool.
Liverpool was unable to close the gap this weekend after City pulled off a convincing 2-0 over Burnley, with goals courtesy of Kevin De Bruyne and Ilkay Gundogan. Liverpool maintained their momentum with a 2-0 of their own over a struggling Watford side.
Chelsea gave up valuable points with a shocking 4-1 home loss to Premier League newcomers Brentford, who had a day to remember at Stamford Bridge. With Arsenal playing Crystal Palace on Monday, Chelsea could be in danger of slipping out of third and scrapping for a Champions League spot.
What is the relegation zone?
The Relegation Zone in the Premier League is made up of the three lowest placed teams at the end of the season. Those three teams are moved down to the division below and will start the following season competing in the "Championship" division of English soccer.
The current relegation zone includes: Watford, Burnley and Norwich City.
What are the Premier League fixtures and live broadcast schedule?
All the Matchweek 31 action will take place on USA Network, NBC and Peacock. The full schedule for each day is below: