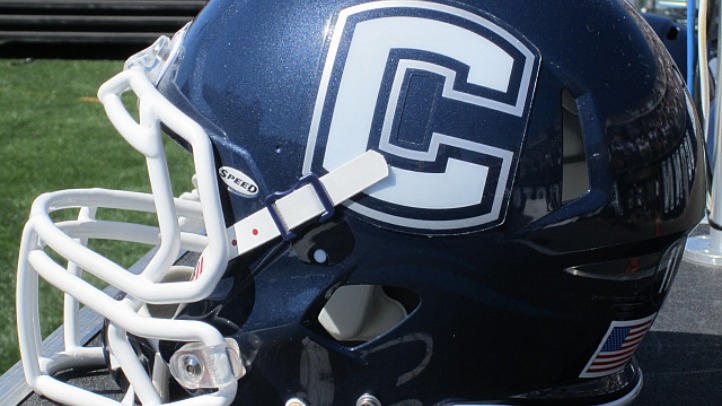 Here's something you probably thought you'd never hear, at least not anytime soon: the Huskies have some depth at quarterback, and it goes beyond Johnny McEntee, Scott McCummings and Michael Nebrich, who all played at points last season.

Desmond Conner of the Hartford Courant writes that Chandler Whitmer, a 6-2, 190-pounder who threw for 3,000 yards and 25 touchdowns at Butler Community College (Kansas) last season, has transferred to UConn.

"I had been through the recruiting process before and I kind of knew what to look for going through it a second time," Whitmer said Wednesday, according to Conner. "Overall, UConn just offered the most and the best of the things needed to further my career and education."

He'll join incoming freshman and two-time Connecticut State Player of the Year Casey Cochran, and they'll compete with McEntee, McCummings and Nebrich.

In general, competition is a good thing, although it also might mean the roster could look differently on opening day than it does when training camp begins in August. Last summer, Michael Box transferred before the start of the season when it became clear that he wasn't in the running for much playing time. The Huskies will have six quarterbacks on the roster to begin 2012, although two of them are freshmen and one or both could redshirt.

Whitmer, meanwhile brings something that the others can't offer: experience.

"Coming from [junior college], I've got three years left to play and that's what I want to do," he said. "I want to make an impact on a team, come in and play right away. They're definitely going to give me an opportunity to compete for that job. I know there's some other good quarterbacks there I'm happy to compete hard with."

He was in the stands when Rutgers whipped UConn, 40-22 at Rentschler Field. He saw firsthand the Huskies' inconsistent passing game and he'd love the opportunity to do something about it.

"I feel like with the new coaches they have and that style of offense they're bringing in, not only is it pass-friendly but it's a good offense to keep a defense off balance," he said. "We can come in and change that past of not having quarterbacks work out. That's what I plan on doing out there, turning the program around a little bit and getting it to where people want it to be."

Back in November, we wrote about another juco quarterback who was in UConn's sights: Grand Rapids Community College's Cody Kater. He ended up signing with Central Michigan but UConn appears stocked at the position, which is odd given their recent struggles.

In related news, the Huskies will also welcome Clemson transfer, wide receiver Bryce McNeal to Storrs. After going 5-7 in 2011, change is welcome. And if Paul Pasqualoni gets his way, inevitable.