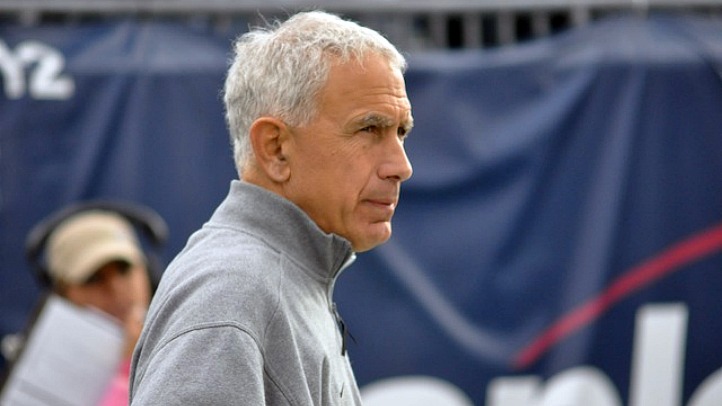 It's easy to forget that Cincinnati's football program has been one of the Big East's best in recent years. But UConn's final opponent of the regular season was conference champs in 2008 and 2009, and depending on how things play out this weekend, they'll be in the mix again. (They're currently 4-2 in the conference, 8-3 overall; Louisville is 5-2, 7-5.)

We mention this because a) the Huskies have never won in Cincinnati, and b) at 5-6 (3-3), they're sixth in the Big East ahead of only South Florida and Syracuse. The Huskies were conference champs last season, but they shared a 5-2 record with West Virginia and Pitt. Taking the long view, when can we expect more consistency from UConn's football program, which joined the Big East in 2004? This is the question the Hartford Courant's Desmond Conner asked coach Paul Pasqualoni this week.

"We didn't play well enough," Pasqualoni of the 2011 season. "We just did not play well enough, especially early in the year. We did not play well in the second half of the West Virginia game. We did not play well at all against Pitt at Pitt. We didn't play well at Louisville, so we've got work to do."

The takeaway: UConn didn't play well for most of the season. That's an over-simplification, and the reality is that while the Huskies had poor play during some stretches, they also played inspired football, most recently last week against Rutgers. An they did it with an inexperienced quarterback.

Truthfully, the expectation this season was something less than repeating as conference champs and a return visit to a BCS bowl game. There were just too many holes to fill, all with a new coaching staff and new systems on both sides of the ball.

Conner provides some background:
Pasqualoni was hired not only to keep Connecticut's top recruits home but also to raise the profile of the program and make the Huskies relevant year in, year out. He achieved that at Syracuse, where he went 107-59 and won four Big East titles — one outright — in 14 seasons.

The "transition year" after Edsall to Pasqualoni has gone as expected, but there already are whispers from inside the program that Pasqualoni will be changing more things soon, likely beginning with spring practice. Still, UConn and Pasqualoni were going to have to get through this season, the transition year, first.
Worth noting: it's not like Randy Edsall is setting the world on fire in Maryland, where he bolted in January. The Terps have two wins this season and their are already calls that Edsall should be fired.

"We've got some work to do, there's no question," Pasqualoni said, via Conner. "This league is a very well-balanced league. I think when you look at the quarterbacks we have in this league, the running backs we have in this league, when you look at the wide receivers in this league, when you look at the defensive linemen that are in this league, I think we have a very, very good conference."

And Pasqualoni is putting in that work on the recruiting trail. The Huskies had more commitments before the start of the season than they had all of last season. And that includes one of their biggest recruits in a long time: two-time Gatorade state player of the year: quarterback Casey Cochran.