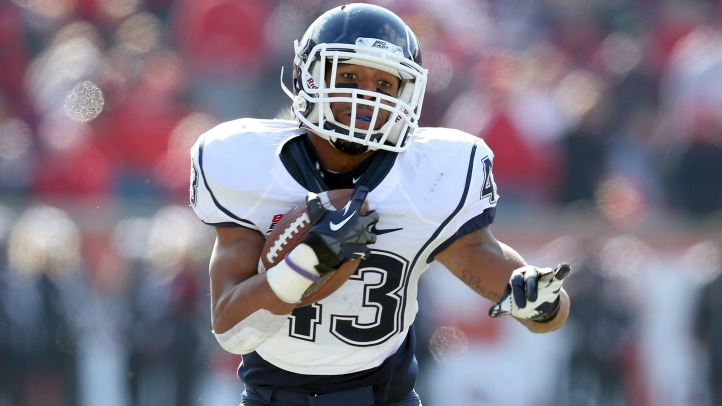 Tell us if you saw this coming: The 4-6 Huskies, losers of four of their last five, play in Louisville in a late-season, must-win game, and have to do it with their backup quarterback during a critical stretch.

No problem. Johnny McEntee, who had been sitting on the bench since losing the job to Chandler Whitmer in August, dutifully took the field after Whitmer left with an injury, and ended up throwing a "no way that just happened" touchdown pass to Shakim Phillips in the second overtime. That didn't seal the win -- Louisville would answer a play later -- but in the overtime No. 3, a Blidi Wreh-Wilson interception set up the game-winning Chad Christen field goal. UConn 23, Louisville 20.

Saturday was an afternoon of vindication and redemption for a lot of people, Christen chief among them. He honked three field goals and had another blocked in a homecoming loss to Temple last month that dropped the Huskies to 3-3 and sent the season off the rails. Then there's McEntee, who struggled as the starter a year ago, not to mention running back Lyle McCombs, who for the first time in a long time looked like one of the Big East's best rushers.

After that Temple loss, UConn would drop two more before righting the ship against Pitt last week. Still, with no wiggle room, the Huskies would need to win out to become bowl-eligible, and facing No. 20 Louisville only complicated matters.

Except that it didn't, really. UConn's defense smothered Teddy Bridgewater and the Cardinals' potent running game, and the Huskies jumped out to a 10-0 lead by halftime. Then they spent the final 30 minutes holding on for dear life. After Louisville evened the score late in the fourth quarter, it was only natural to assume that things would end badly. After all, Paul Pasqualoni's team hasn't exactly finished games strong this season.

Instead, Whitmer gave way to McEntee who got over some early series nerves, and UConn's defenses stiffened again when it mattered most.

"I just know in the red zone they like to go back-shoulder on the fade ball and I had the guy across from me," Wreh-Wilson said of the game-deciding play. "On the play before, they ran a similar route and I played it the same way. This time, the ball came to me. I flattened him out and didn't let him go upfield. I pushed him toward the sideline."

Pasqualoni echoed what everybody was thinking during the second half: It would be nice to score some points and build on that improbable 10-0 lead.

"We were just looking for a few points in the second half and weren't able to come up with points in the third and fourth quarters," he said. "I thought our guys hung in there on pride and with character and how hard they fought in this game.

"We just have to play the overtime. As a coach you just figure out how you can get in position to try and win the game and give the kids a chance to score some points and stop them on defense. We were fortunate here today and we came out ahead in a tough game. ...

"Needless to say, we're proud of the kids, proud of the team," Pasqualoni continued. "They came down here and showed the kind of character they have and how hard they've been working, and that they're determined to stay with and make something out of their season. We're just proud of them."

And now the Huskies' season comes down to this, their final regular-season game. Cincinnati comes to Rentschler Field on Saturday and if UConn wins, they're bowl eligible. If they lose, it'll be another losing season for Pasqualoni, something that seemed inevitable as recently as 48 hours ago.