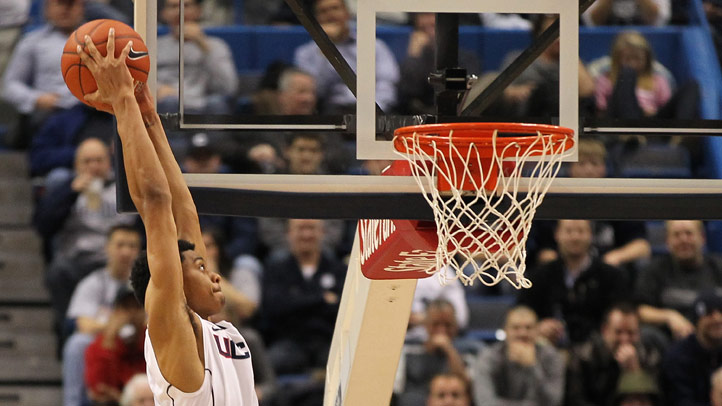 It wasn't easy but the Huskies stopped their losing streak at two games. It took a concerted second-half effort that included overcoming a 10-point deficit, but UConn has raised its conference record to 3-2 and 13-3 overall. And all it took was a Jim Calhoun technical foul to properly motivate his players. He called it a "misunderstanding" after the game but at the very least it was a turning point.

UConn went on a 17-3 run eventually winning 64-57.

Jeremy Lamb had 25 points, freshman center Andre Drummond added 20 and Shabazz Napier, who went scoreless, added eight assists.

"We really wanted to show that we've got fight," Lamb said afterwards. "We really wanted to show that we can be the team that people think we can."

The win is exactly what UConn needs after a tumultuous stretch that included the aforementioned two-game losing streak and being without their coach for the first three games of the conference schedule while he served an NCAA-mandated suspension.

"I thought the [fans] that showed up were more than special," said Calhoun. "And here's how I sometimes correlate it. We're down eight, we get to six, and I thought we went ahead by four. In the past we've had crowds waiting for us to do things….The team feeds off that and, by the way we were playing, they need to feed off that, because we were turning the ball over, we weren't rebounding….We started to rebound, started to play some really good defense."

As for his players, Calhoun was mostly laudatory, a change from his usual post-game pessimism.

"I'm really proud of them," he said. "I'm proud of the way they played, and came back. And I'm proud of our fans. It was exhilarating. There's no other word for it. When you've done this a few times, as I have, there are wins and there are good wins. And that's a terrific win for us, because they're really good."

UConn came into the game as the No. 16 team in the country, a swift fall from their preseason top-5 ranking. But it's January. Championships have never been won two weeks into the new year. Twelve months ago, the Huskies had yet to hit their rough patch that eventually strengthened them during their improbable tournament run in the spring.

The 2011-12 team may be long on talent, but it's extremely short on experience. We knew that coming in and we knew there might be an adjustment period. That's what we're witnessing now. But the more they play together the more formidable they will be at the end of the season. We got a glimpse of what that could look like against the Mountaineers on Monday night.