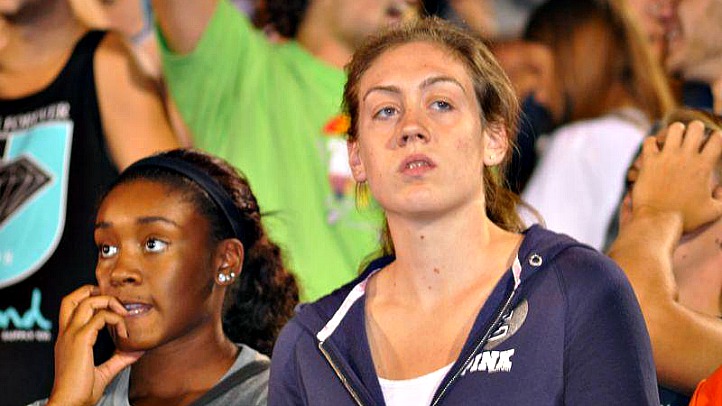 The final score was a formality but the process -- 40 minutes of basketball, a chance for the young players to get acclimated to the pace and speed of the college game -- was invaluable for the second-ranked Huskies. Yes, the 119-50 final over Holy Family indicates that Geno Auriemma's bunch is plenty ready for the regular season.

But it's about more than outscoring an overmatched opponent by 69 points. It's about gaining experience, something the uber-talented Huskies are short on. Everything's relative, of course. UConn routinely has the nation's best recruiting class and this freshman group is no different.

Freshman center Breanna Stewart led all scorers with 21 points in 25 minutes of action, and sophomore Brianna Banks added 20 on 8-for-9 shooting. Other impressive stats: the team shot 55 percent from the floor, 88 percent from the free-throw line and 53 percent (18 of 34) from behind the arc.

So what did Auriemma take away from the lopsided performance?

"I don't think offense is going to be a problem," he said after the game. "I say that, but it's not going to be every night where you go out and make 18 3's. We probably took more 3's than I'd like to see us take, but the other team can dictate that too. They just put five guys in the lane and dare you to shoot it. We've got a really good shooting team. We shoot the ball well in practice every day and have guys that can make shots from a lot of different spots. I hope I'm right, but I don't think scoring points is going to be one of the issues we have going forward."

And Banks spoke about her maturation from last year to this one.

"I figured I was trying too hard and thinking about making mistakes all the time," she admitted. "Like most freshmen do, I didn't want to mess up on the court, and I thought about that too much. Clearly if you think about it too much you're going to mess up, and every time I messed up another one came after it. Now I have a different mindset on the court. I know what to expect and what coaches expect of me."

The Huskies' season officially begins this Sunday at 1:30 p.m. ET when they host the College of Charleston at Gampel Pavilion.