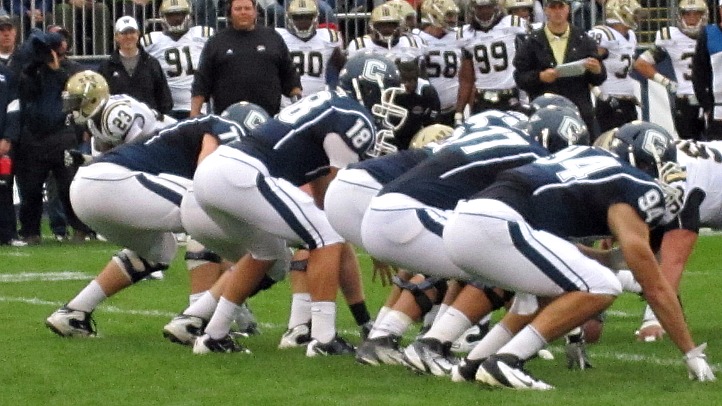 So, yeah, we didn't see that coming. After six weeks of ups and downs, uncertainty at quarterback, changes along the offensive line, and inconsistencies on defense, there was every reason to think that the Huskies, who have allowed back-to-back 400-plus-yard passers in losses to Western Michigan and West Virginia, would be no match for South Florida, the Big East's most explosive offense.

Instead, UConn's defense returned to its early season form, which is to say: they were stifling from start to finish, harassing quarterback BJ Daniels for most of the afternoon, forcing fumbles and interceptions, turning them into points, and taking the burden off an offense that is still finding its way.

Oh, and kicker Dave Teggart, who has a history of beating USF, made three field goals, too.

For the first time in two weeks, the biggest concern coming out of the game wasn't the defense's sudden collapse, but the continued ineffectiveness of UConn's offense. Certainly part of that has to do with Johnny McEntee, the first-year starter who officially got the gig a month into the season.

He was sacked seven times Saturday, but they weren't all his fault. Yes, McEntee holds the ball too long. And yes, he does have a knack for throwing ill-conceived passes that, at best are momentum killers, at worse turnovers. But McEntee's also a victim of suspect pass-blocking, and perhaps, questionable play-calling.

When you know that the South Florida pass rush is quick off the ball, it's probably not a great idea to dial up a bunch of play-action passes. Because every time McEntee turned his back to the line of scrimmage, as soon as he did get his head around to look downfield, he was usually met by a USF defender.

"They came with some pressures, some blitzes we had not seen in preparation for this game," UConn coach Paul Pasqualoni said Sunday, according to the Hartford Courant's Desmond Conner. "On at least two of them early in the game they kind of got us on it so that was a little bit of an issue.

"I think on another we were just caught by surprise and didn't get the ball out. I thought we had a chance to get the ball out on one of them and just flat out got surprised on it; and I think a couple others we might have been able to avoid …. they had a total of seven sacks for minus 39 yards which is a lot and we're going to have to do a better job with it, prepare, maybe prepare as we go in each week for what ifs.

"We saw a little bit of it against West Virginia and we saw a little bit of it again last week, so in my opinion people are trying to pressure us a little bit more than they've shown going into our games. We're going to need to be prepared for more blitzes and maybe that's something people are trying to do because of the inexperience we have the quarterback position."

Conner adds: "McEntee had one of his worst-performing games in a UConn uniform, completing 13 of 23 for 103 yards. He didn't have any interceptions but he was very close to being picked off four or five times."

Compounding matters: while UCF's front seven had very little trouble hounding McEntee, they couldn't find a way to slow running back Lyle McCombs, who finished the day with 32 carries for 130 yards. UConn's offense had 253 total yards.

And the Huskies' lone touchdown came from -- you guessed it -- the defense. Cornerback Byron Jones scored on a third-quarter fumble recovery after teammate Twyon Martin stripped South Florida running back Darrel Scott deep in UConn territory.

To steal a line from Steelers head coach Mike Tomlin: Style points don't matter. That holds for college, too. No matter how ugly it may have looked, the Huskies are now 3-4 overall, 1-1 in the Big East.

Pretty sure nobody expected that Saturday morning. Maybe not even late in the fourth quarter on Saturday afternoon, either.