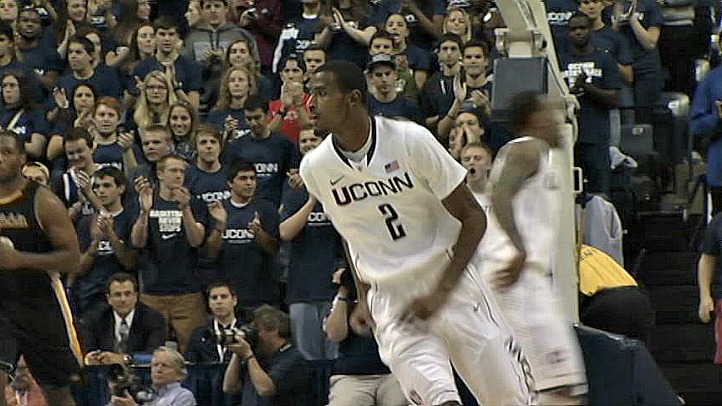 It took 16 games but the Huskies finally dominated its opponents on the board. And it was worth the wait. UConn grabbed a mind-blowing 49 rebounds against an overmatched DePaul and dominated from start to finish. By the time it was over, the Huskies left Gampel winners, 99-78.

UConn had 20 more rebounds than DePaul with DeAndre Daniels and Shabazz Napier leading the way with eight each. Daniels also led the team in scoring with 26, followed by Ryan Boatright's 22 and 16 from Napier.

"They all did the dirty work, and we put it on the board," coach Kevin Ollie said after the game. "Just a great effort by everybody. Everybody came in and contributed….I was just proud of all of our guys…. I was happy to see everybody come in and contribute."

That includes center Enosch Wolf, who pulled eight rebounds and scored eight points as he continues to evolve into a shot-altering presence in the paint.

But the biggest story had to be Daniels, who has shown glimpses of what he's capable of but never looked comfortable as a freshman last season.

"I know I'm going to get points from Shabazz, I know I'm going to get points from Boatright," Ollie said. "I can pretty much mark that down, that they're going to get double figures on most nights. … It just gives us an extra dimension to have (Daniels) score like he wanted to score. Not just out there playing, he wanted to score. Hopefully it's not just a moment. Hopefully we can get this over a consistent period of time…. He did a hell of a job today. I'm very proud of him. Very proud."

Napier agreed.

"Sometimes (Daniels) doesn't know whether he wants to stay outside or be in the middle," the junior guard said. "He has to figure that out. Once he does, he's kind of hard to guard. We play him at the four for a reason. Other fours are unable to play defense on him as well as he would be able to play defense on them."

The Huskies are now 11-3 overall, 1-1 in the Big East and already exceeded everyone's expectations. With the NCAA tourney ban only months away, what's this team have to play for? A lot, it turns out.

"We're not going to the tournament," Ollie conceded. "So what? We're playing each and every day. People are still watching you. You've still got pride to put on that jersey. That's the prize. That's the goal. You get the opportunity to put on a jersey. You get to wake up in the morning and go to a great university. And if guys pay attention to that, we're fine. And that's what they've been doing. I've got a terrific group, I love them to death and they played very, very well. But we do have a prize: Every day trying to get better."