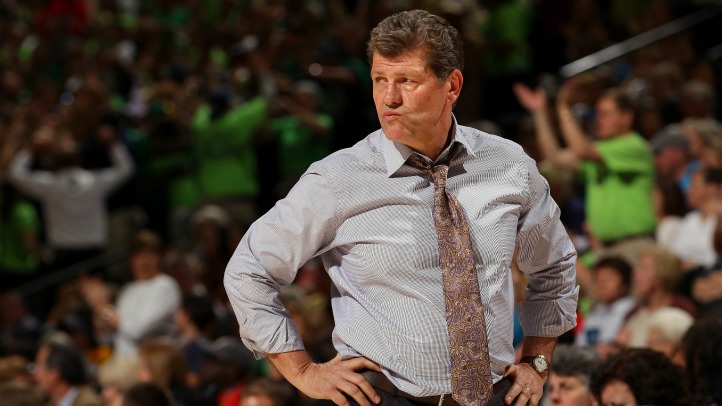 Two years ago, Stefanie Dolson was a freshman still finding her way. Now she's one of UConn's best players, a difference-maker in the paint who looks nothing like the indecisive player she was during the 2010-11 season. This goes a long way in explaining the Huskies' 22-1 record, and why Dolson, who is coming off a two-game performance that included 38 points and 18 rebounds in 47 minutes of action, was named the Big East Player of the Week.

And while individual accolades are nice, the long-term goal is all that matters. This isn't news, of course; like every other year, coach Geno Auriemma has been laying the groundwork for a title run for months. As usually happens in early February, things appear to be right on schedule for the Huskies. One of the benefits to having a roster loaded with McDonald's All-Americans and one of the country's best coaches is that you can do things that other teams can't. Sheer athleticism married with the military precision Auriemma demands means that UConn can win by taking away what their opponents do best.

It's not a unique strategy; when the Patriots were regularly winning Super Bowls earlier this century, it's what coach Bill Belichick did from one week to the next: attack the opponent not where they're weakest, but where they're strongest. Neutralize what they do well and everything else takes care of itself.

It's in our game plan," junior guard Bria Hartley said via the Hartford Courant. "If you take out the player that runs their offense, it's hard for [the opponent]; it kind of messes up the whole team."

It's one thing to proclaim that that's the game plan. It's something else entirely to execute it.

"The simple answer is to say that we really work hard at it," Auriemma said. "We take great pride in what the scouting report says, what the game plan is. It's something we've imparted on our players over the years."

And like we mentioned, it doesn't hurt having some of the planet's most talented players to carry out said game plan.

"It's just a matter of focus," Dolson added. "It's about never losing sight of what the strength of the opponent is, what they may try to do against you and stopping it. [Associate head coach] Chris Dailey always tells us that if a team beats you in a different way it's not as bad as if they beat you the way it was [described] on the scouting report."

The Huskies face Providence Tuesday, and have just six games remaining in the regular season.